About a year ago, Christine Parker had her first-ever airplane ride.
It was one that would change her life.
"I was always one of those kids who would look up in the sky every time an airplane flew over, though I had never actually flown until a band trip last spring," she said. "After that I guess you could say I was obsessed with flying."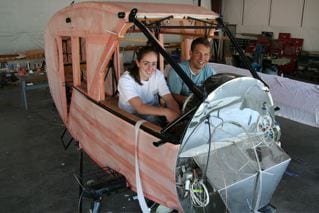 Talking about that obsession with her friend, Doug Vogel, led her to the Port Townsend Aero Museum at Jefferson County International Airport (OS9) in Washington state, which runs a volunteer program where kids from 12-18 learn to restore vintage aircraft while learning to fly.
"The experience has been amazing," she said. "I've learned a heck of a lot. The very first day I did fabric work. I do it every weekend and I'm getting pretty good at it."
The lessons learned at the museum extend far beyond how to restore aircraft. The kids also learn about the value of hard work, determination, and striving for perfection.
The program began in 2001 when Jerry and Peggy Thuotte founded the museum based on a youth-oriented volunteer program.
"I had worked with kids for the past 20 years, telling my kids' friends that if they helped in my hangar, I'd teach them to fly," said Jerry Thuotte, a retired air traffic controller and United Air Lines pilot.
After he retired and moved to Port Townsend, he got a lot of pressure from friends and relatives to continue his work with kids, as well as his work restoring antique aircraft.
"I knew that if I had enough kids properly trained, I could restore enough aircraft to bring in enough money to build the museum," he said. "Once you put all the pieces together, you have a puzzle and the centerpiece is this beautiful Taj Mahal."
What he's referring to is the museum's new 18,000-square-foot hangar, which houses a collection of 31 aircraft, including a 1922 Irwin Meteor, a 1935 DeHavilland Queen Bee, a 1928 Travel Air, a Benny Howard Mike pylon racer replica, a 1936 Waco YKS-6, a 1932 Pietenpol Sky-Scout and much more. Most of the planes are airworthy. The ones that aren't are in the restoration process, with the kids doing a lion's share of the work.
"It's a constant training program," Thuotte said. "Kids come in as early as 12 and then leave when they go off to college or get out of their teens."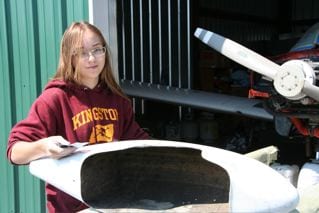 In the last eight years, about 210 kids have gone through the program. Thuotte estimates that 25% of them have continued on in aviation as pilots, engineers, mechanics or air traffic controllers. "Many have gone on to the University of Washington, Embry Riddle, Purdue, and the University of North Dakota," he said.
Parker will start at the University of Washington in the fall, majoring in aeronautical engineering.
"I want to design my own airplanes," she said, noting she wants to design GA aircraft, not behemoth airliners. "I'm not a fan of big, big, big airplanes."
Her friend who inspired her to volunteer at the museum also is pursuing a career in aviation.
Vogel, 18, plans to attend Westminster College in the fall, majoring in flight operations. The recipient of a Navy ROTC scholarship, he hopes to be a Naval Aviator.
He started volunteering at the museum when he was just 11, discovering the program through a summer camp.
"It was a way to be in and around airplanes," he said. "It was an opportunity for me to see if aviation was interesting enough to pursue as a career or hobby. The more I was at the airport, the more I fell in love with not only flying, but all aspects of aviation, from restoration to airport operations."
RESTORING PLANES
The kids are tasked with restoring not only the museum's vintage aircraft, but also airplanes from customers from around the country.
Taught by adult mentors, they learn everything from rib stitching to fabric covering to fabricating a windshield or restoring a propeller.
Their work not only helps fund the museum, it also helps preserve the dying skills required to keep antique airplanes airworthy, Thuotte said.
"We are inundated with work," he said, noting restorations in process include a J-3 Cub, a PA-12 Super Cub, and a 1929 Bellanca Pacemaker. "We also do a lot of repairs, such as rebuilding the wing of a Stinson Gullwing. We've restored 40 to 50 airplanes over the years and they just keep coming."
But how do airplane owners feel about youngsters working on their planes?
"When we first started, the work came in based on my reputation," said Thuotte, who has not only completed 17 restorations, but has also built several aircraft. "But now the work comes in based on the kids' reputation."
He tells the story of being at a gathering recently and overhearing two pilots talking about the museum's contract work. "Those kids are incredible wizards," he heard one pilot tell another.
"Their work is first class," Thuotte claimed. "They come here as raw material, so they have no bad habits. They don't cut corners and they don't espouse a 'that's good enough' attitude. They all strive for perfection."
That quest for perfection is critical in helping kids succeed not only in aviation, but in life, Vogel noted.
"It is my firm belief that people will rise or fall to what is expected of them," he said. "Setting very high expectations in all areas of a child's life — but particularly aviation — will give the child the best chance possible for success."
Those high expectations aren't just for restoration work. Thuotte expects a lot from the kids — and they deliver. If they don't, they're out.
FLYING HIGH
A child who wants to volunteer must go through an interview with Thuotte. In that interview, he emphasizes the most important requirement: Commitment.
"They must commit to one day a week during the school year and more in the summer, if their family will allow," he said. "Priorities are family, school, then job."
Thuotte keeps an eye on their grades, pushing them to get all As.
"That will help them get scholarships," he said. "When they leave here, they are going to school."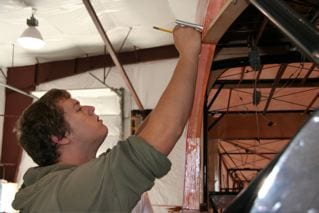 He also takes in kids who are required to do community service or have had some problems the past. "The past is the past," he said. "Once they come through our threshhold, it's like being born again."
However, the kids have to follow the rules: Don't be late. No drinking. No horseplay. That structure helps prepare them for the real world, he said.
While the work is tough, the rewards are great. All the kids have the opportunity to learn how to fly — for free — in the museum's planes.
"They come in at 12, we give them rides at 13, by 14 they get some dual instruction and by 16 they can wear that airplane," he said. "We emphasize stick and rudder skills. After all these years, we have yet to scratch a wingtip — that's because we focus on stick and rudder."
There are no radios or electric systems in the training fleet, which includes a J-3, an Aeronca L-3, two 7AC Champs, a Citabria, a Luscombe, and a Baby Ace. As the kids mature and get more flying experience, they get the chance to fly the museum's other aircraft. The older kids also help the younger kids with their flying. There are five CFIs at the field — all volunteers.
Vogel has already earned his private ticket, while Parker soloed for the first time in late June in the J-3. She plans to continue her training to get her private license as well.
HOW CAN YOU HELP?
Want to inspire the next generation of aviators? You don't have to open a museum or start an official program. Just be there.
Give a kid the opportunity to get involved in aviation, Vogel said. And then encourage it, Parker added.
"I had a bit of an issue with my family getting behind me, because no one else in the family was interested in aviation," she said.
Now that she's found that encouragement, will she pay it forward?
"Definitely," she said. "After this whole museum experience, I feel I owe it pass it on. This is something I really love."
For more information: PTAeroMuseum.com.