Sporty's Garmin G1000 Checkout Course is now available in an online format with new interactive features.
"You get everything included with the DVD version, plus some," says Sporty's Academy President Eric Radtke.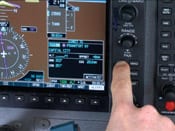 The Garmin G1000 Checkout is a perfect complement to in-aircraft training with an instructor, covering everything you need to know to be safe, proficient and comfortable with the G1000, Sporty's officials said.
This program emphasizes scenario-based training, taking the viewer along on real-world flights in a variety of conditions.
In the process, it covers the integrated GFC-700 digital autopilot, use of XM weather, Stormscope and new features such as electronic checklists, charts and synthetic vision technology (SVT). The viewer will also learn more about the aircraft electrical system and how to handle both abnormal events and emergencies.
So users can put this knowledge into practice, Garmin's interactive G1000 PC simulator is also included. The simulator functions just like the real G1000 and provides a safe environment to practice techniques and strategy.
Sporty's G1000 Checkout also includes a lesson-by-lesson flight training syllabus for both VFR and IFR flying, an Instructor's Guide for standardization, as well as a G1000 cockpit training poster to ensure a smooth transition into the airplane.
The online version of the Garmin G1000 Checkout Course is available for $89.95.
For more information: 800-SPORTYS or Sportys.com.