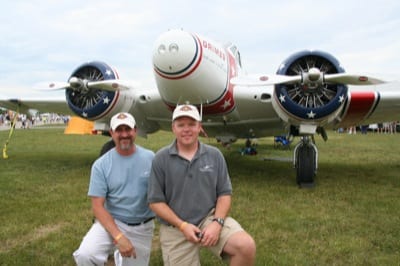 There are certain businesses that are synonymous with particular towns: Cessna in Wichita; Lockheed in Sunnyvale; and Grimes Manufacturing Co. in Urbana, Ohio.
The icon of Grimes, now part of Honeywell, is the Flying Lab, a specially modified twin Beech. Owned by the Grimes Flying Lab Foundation, the highly modified red, white and blue Beech C45H made its first Oshkosh appearance this year and was treated like a rock star.
"If it is or was used on a military airplane or airliner, chances are good it was tested on this airplane," said foundation spokesman Chris McConnell.
The plane looks like a cross between a Broadway theater marquee and a Christmas ornament because of the rows and rows of light bulbs, LEDs and special lighting pods. One young AirVenture visitor asked his father if it was a spaceship because of the futuristic look of the wing tips. Other visitors shared their memories of seeing the Grimes Beech at air shows and fly-ins in years gone by.
"It's a well-known airplane in the midwest," said McConnell.
Grimes designed lighting for aircraft from Boeing "on down" until the 1970s, when it was bought out, eventually to be owned by Honeywell, he said. "Back in the day, everyone in Urbana knew someone who worked at Grimes," he said. "The airplane was an icon."
It didn't start out that way. The airplane was released by the Air Force as surplus in 1953. In 1963 it was acquired by Warren Grimes, known as the father of the aircraft lighting industry.
Grimes developed the lighting systems for the Ford Trimotor in 1925 and went on to form his own company in 1933. He was the inventor of the red, green and white navigation lights found on the wing tips and tails of aircraft, as well as the interior lights.
The plane, which served as a high-profile marketing tool for Grimes, is designated as "experimental" because of all the modifications required to test the different lighting concepts.
Inside the cabin, just behind the cockpit, is a large box with switches for all the lights.
"We have 115 total lights," McConnell said. "They are inside and out — this is a lighting platform after all."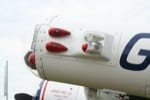 The exterior is covered with 55 lights. The wing pods are filled with strobes. LEDs and Halogen lights are in the front, while incandescent and Halogens are in the back, the belly and tail pods. "The whole fuselage is covered with them," he said. "We want to be seen. We go to air shows and fly at night with her all lit up just to dazzle."
The Flying Lab's Oshkosh debut has been a long time coming, he noted.
"The first restoration was in the early 1970s in preparation for a European world tour," he said. "It was painted red, white and blue for America's Bicentennial in 1976."
In 1986 the airplane sustained wing damage during a Fourth of July air show. It was sold for salvage in 1987 and "kind of sat in a field for a while," he said.
Honeywell repurchased the airplane in 1999 and the restoration, funded by donations and the sweat of volunteers, began. Much of the restoration was done by former Grimes employees.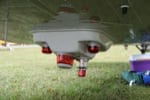 "This last restoration took us eight years and 12 days to get it back into the air," said McConnell.
The words "Flying Laboratory" are emblazoned down the side of the fuselage. That's a little confusing to some people, said Chris Palmer, who flies the Beech.
"Everyone's first question is what kind of experiments we do," said Palmer.
Other people, mostly pilots, ask how it is possible an airplane with so many exterior lights can fly without an overabundance of parasitic drag.
"It does take some getting used to," Palmer laughed. "It is much heavier than a regular Beech and there is a lot of extra drag from wing pods and pods on the bottom. Each individual light adds more drag. The cruise speed is about 20 knots slower than a conventional Beech."
For more information: GrimesFlyingLab.org.