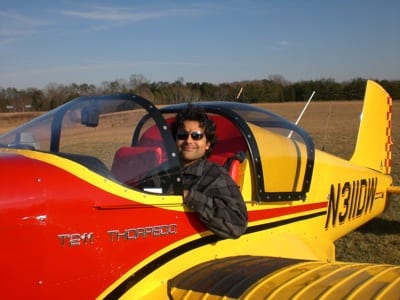 Aviation headset manufacturer Sennheiser has partnered with pilot and motivational speaker Ravi "the Raviator" to bring renewed passion to the general aviation industry.
Sennheiser and Ravi executed a series of educational and motivational events to explain how the industry can spread the dream of flight and engage the general public. One such event took place at the Eagle Flying Club of Daytona Beach, founded by employees of Embry-Riddle Aeronautical University in Daytona Beach, Fla. The club enables university employees and their immediate families to actively participate in aviation, and provides students and members with complementary Sennheiser headsets in each training aircraft.
The events, which are hosted by Ravi and supported by Sennheiser, also educate pilots about how to prevent hearing loss while flying. Ravi has a unique perspective. In addition to being a pilot, he is a professional guitarist who played with the pop-group Hanson and writes for several music and aviation industry publications.
"Besides the fact that making music and flying airplanes are both passion-driven activities, there are also shared concerns such as the exposure to continuous loud noise levels," Ravi said. "Having met more hearing-impaired pilots than musicians, it's become a passion to inspire pilots to use proper protection and technology in the cockpit. Since Sennheiser also champions hearing protection, together we can promote the health/safety message and help grow the pilot population to secure the future of general aviation."
Ravi said he relies on the performance of Sennheiser microphones and wireless personal monitoring systems when he's on stage. In the cockpit, he depends on his Sennheiser HMEC 460 active noise-canceling aviation headset, which is equipped with Peak Level Protection technology. This technology, coupled with the headset's closed-cup design, safeguards pilots against sudden bursts of noise, he said.
For more information: TheRaviator.com or SennheiserUSA.com.