Aviation Supplies & Academics, Inc. (ASA) has released its 2011 catalog, which includes descriptions, part numbers and pricing for the company's complete product line, such as textbooks for pilots and aviation maintenance technicians, test preparation books and software, FAA handbooks, pilot supplies, flight simulation and tutorial software, eBooks, mobile device apps and more.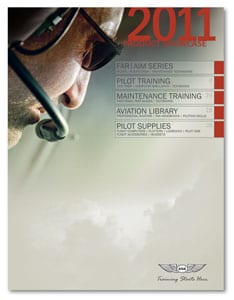 The full-color 2011 Product Showcase features several new products, including the most current FAA publications, including Practical Test Standards and Handbooks, according to company officials.
Go to ASA2Fly.com to request a printed catalog or download the PDF version.
product information call 1.800.ASA.2.FLY or 425.235.1500, or visit ASA's online catalog (www.asa2fly.com)
and select the desired product category, or use the search window to find specific products.