The Jan. 1, 2020 ADS-B mandate has a lot of aircraft owners wringing their hands and seeing red. For those of us at the recreational end of the aviating spectrum (which represents a great many aircraft), plunking down the money it'll take to equip our aircraft to meet the mandate is not something we care to think about.
So that got me to thinking who the ADS-B Out mandate applies to? Do you fly in airspace that requires a transponder? If not, you might not need to equip for the mandate.
But that question and answer might be overly simplistic, so here's a few more questions for you:
Do you fly at or above 10,000 feet MSL (or more than 2,500 feet AGL above 10,000 feet MSL)?
Do you operate your plane over the Gulf of Mexico?
Do you fly to or from or above Class C airspace?
Do you fly within 30 nautical miles around Class B airport?
If you answered NO to each of those questions, as I read the ADS-B Out requirements, the mandate doesn't apply to you.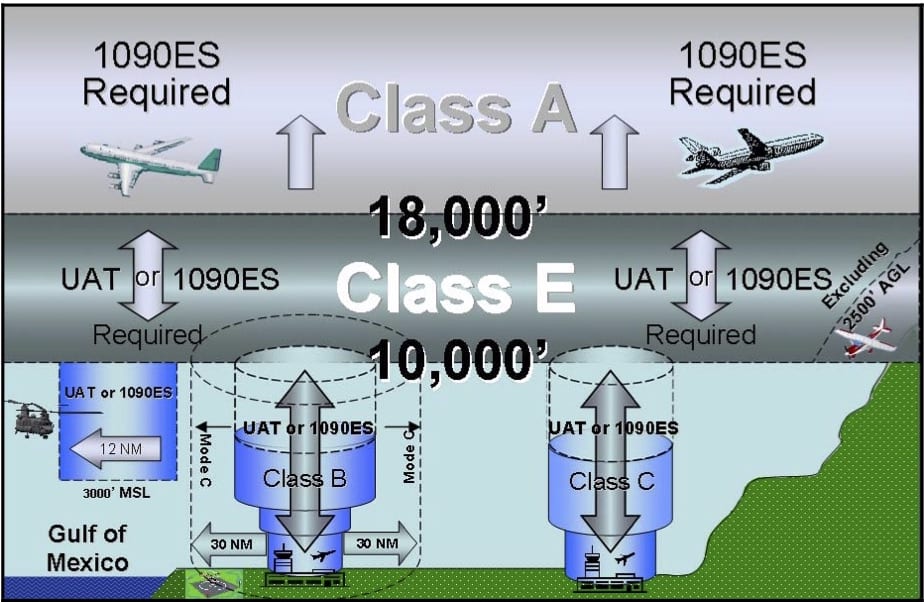 In fact, from Garmin's ADS-B website, "This [ADS-B airspace] includes Class A, B or C airspaces, Class E airspace at and above 10,000 ft MSL over the 48 contiguous United States and the District of Columbia, and Class E airspace over the Gulf of Mexico from the coastline of the U.S. out to 12 nm and above 3,000 feet MSL. Even if you don't fall into one of these categories, you'll still need an ADS-B Out solution if you find yourself flying from the surface up to 10,000 ft MSL within 30 miles of most primary Class B airports."
What does this look like on a map? In the Pacific Northwest, where I live, my unequipped bug-smasher will not be welcome with 30 nm of Sea-Tac International (the only Class B airspace in Washington, Oregon, Idaho or Montana) or within the lateral limits (and above) of the Class C airspace at Spokane International/Fairchild AFB or Naval Air Base Whidbey Island in Washington, Portland International in Oregon, Boise Airport in Idaho, or Billings International in Montana. There is more than 400,000 square miles in those four states. If I rounded up, the ADS-B Out impacted airspace totals just 17,000 square miles, or 4%.
Obviously, things get much more complicated in California, Florida, the Northeast and other areas, to be sure, but that isn't my point. There are thousands of aircraft owners, I believe, that rarely — if ever — operate in what will be ADS-B Out-required airspace. And because they believe the mandate will affect them, they are worrying about what to do.
And if you don't operate in "Out" airspace, but plan to equip anyway, you have time on your side. Since the 2020 mandate doesn't apply to the way you fly, you can wait for a better installation window at your avionics shop, for lower prices or new and better (hopefully portable) equipment options.
But watching the discussion surrounding the ADS-B mandate, I worry the average aircraft owner believes they must equip or ground their plane on Jan. 1, 2020. And that isn't necessarily the case.
Stay tuned.
Related Article: Looking for an airspace refresher? Suggest you read The Logic Behind Class E Airspace (via BoldMethod).