Burt Rutan always draws a crowd at his AirVenture forums, especially when introducing a new aircraft design.
And since his current project, the SkiGull amphibian, may be the "retired" 72-year-old designer's last homebuilt, the standing-room-only crowd at this year's Oshkosh was all ears as he broke his long-standing rule of keeping a new design under wraps until it has flown.
Although Rutan's first PowerPoint slide announced that everything he was about to say "could all be BS" because the plane has not yet flown, the legendary designer's record of accomplishment, including 46 unique aircraft designs, says otherwise.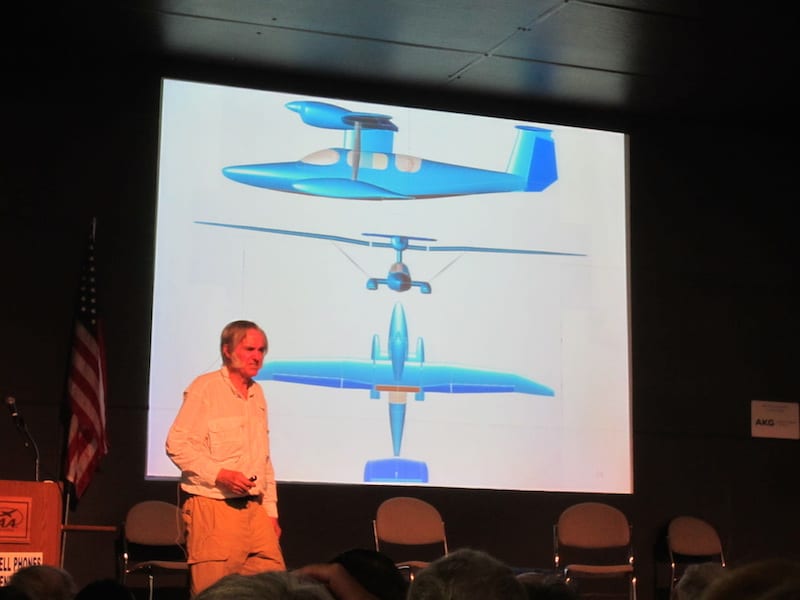 And this time it's personal, because the SkiGull is designed as a dream plane for Rutan and his wife, Tonya, a newly-minted seaplane pilot. Together, they plan to tour the world and land virtually anywhere they desire, not just at airports.
"I've worked on airports since 1965 and I've realized that I don't like airports," said Rutan with a grin.
Until his 2011 retirement from Scaled Composites, which created the X-Prize winning SpaceShipOne, Rutan worked for decades at the Mojave Airport in the California desert and it's obvious that he is enjoying the change of scenery at his current home in Coeur d'Alene, a lakeside resort community in northern Idaho.
With a strut-braced 47-foot wingspan, Rutan's new design is a tandem two-seat amphibian that looks more like a motor glider than a seaplane. The long, thin wings fold to make ground handling and transportation easier.
Although Rutan gave up golf to focus on building the plane, he said there is plenty of room in the rear baggage compartment for a set of clubs.
The most unique design feature of the amphibian is a pair of extendable water skis that are reminiscent of the 1950s era Convair Sea Dart prototype on display on the campus of SUN 'n FUN at Lakeland-Linder Regional Airport in Florida. The twin skis include small 4-inch diameter wheels and hydraulic shock absorbers. Rutan said that seaplanes have long needed shock absorbers to cushion the ride on rough water.
The composite trimaran is designed to operate off any almost surface and even handle large ocean swells, including 10G hits on one sponson. Operating in salt water will not be a problem because there are very few metal components, Rutan noted.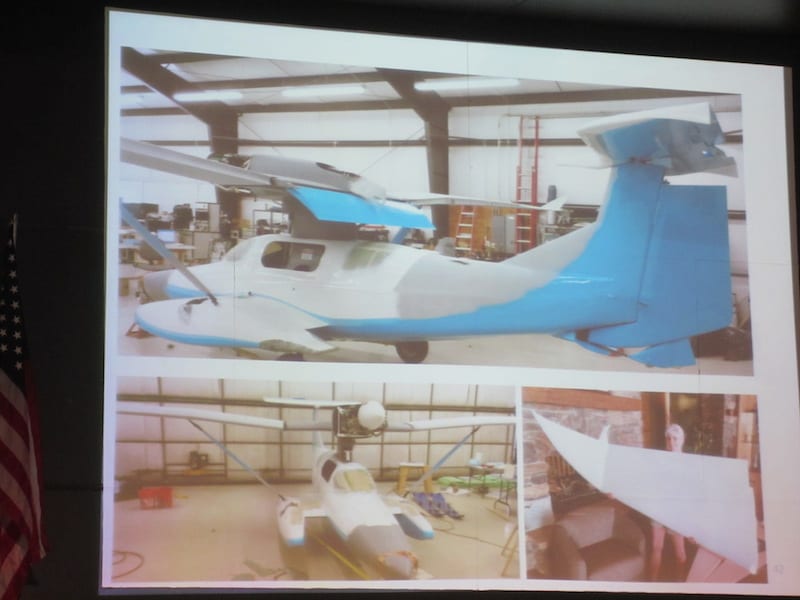 "For water takeoffs, the two skis stay retracted until the plane accelerates to 15-22 knots, when the skis are extended, allowing it rise and absorb shocks for the remainder of the ski-borne takeoff run," he explained.
To help the plane get off the water easily, a large 44% chord Fowler flap is located at the center of the wing, directly in the airflow of the propeller.
"It normally lands with skis extended," added Rutan. "However, it can land on smooth water or grass with skis retracted."
The plane's rudder houses a single component that serves as a tail wheel, a tail-ski and a water rudder.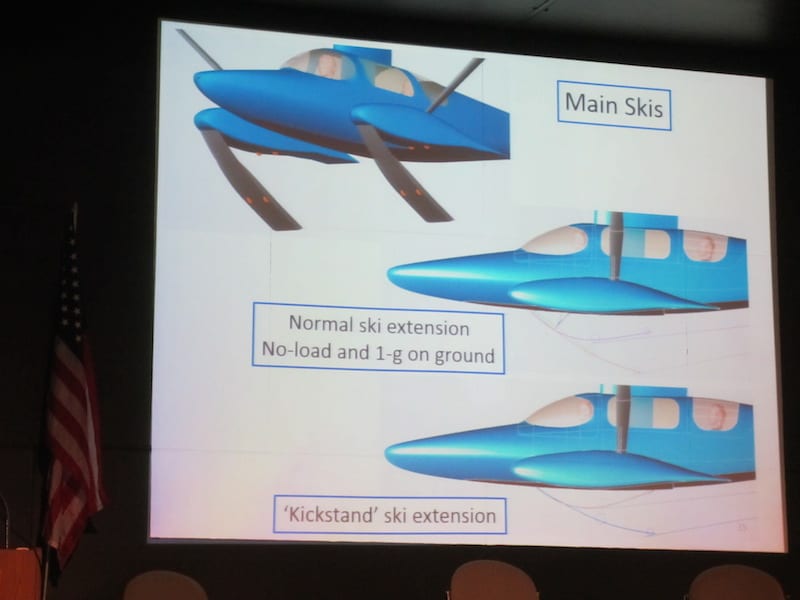 At high power settings, the SkiGull is designed to cruise at 140 knots and to be capable of loitering almost silently at low power.
Rutan recently used a friend's ski boat to push a full-scale mock-up of the plane's hull and retractable skis at various speeds on Lake Coeur d'Alene and he collected enough data to confirm that his unique design should work.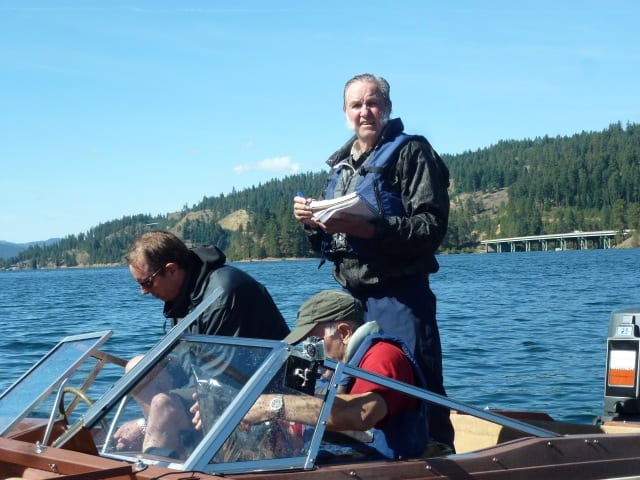 A tractor-mounted Rotax engine burning car gas will give the plane remarkable non-stop efficiency and range. Rutan says a 2,500-mile flight from California to Hawaii will be possible.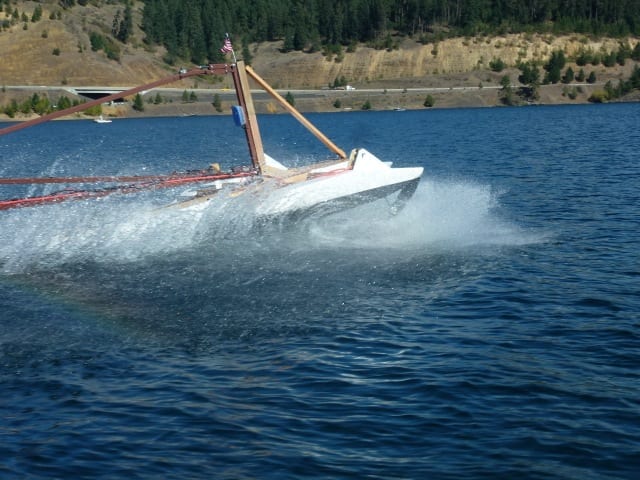 Although a Rotax 912iS will be used initially, Rutan admired the company's new 135-hp turbocharged 915iS prototype unveiled at AirVenture, which may be the ideal engine for high-altitude cruising when available. He may also eventually install a constant speed prop.
The plane will also have two 12-hp auxiliary electric motors with 30-inch diameter reversible, forward-folding props that are designed to assist with docking and provide extra thrust if needed during takeoff or if the engine fails.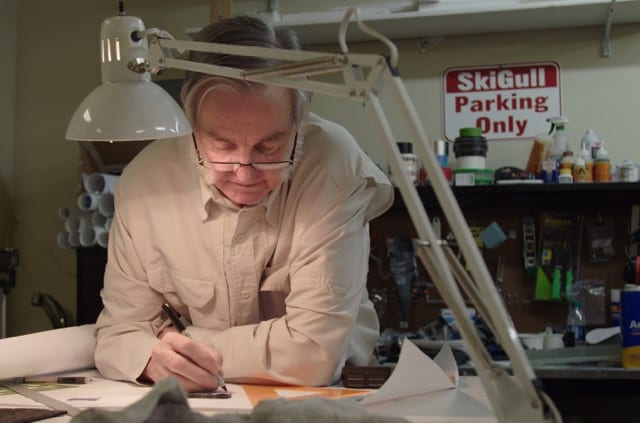 In addition to engineering drawings, Rutan showed actual photographs of his nearly-completed SkiGull, which he built in Idaho with the help of a small team of friends.
Although his goal was to fly the plane to Oshkosh this year, Rutan realized about three weeks out that even continuing to work 18-hour days was not going to allow him to finish the new design and do a proper flight test program.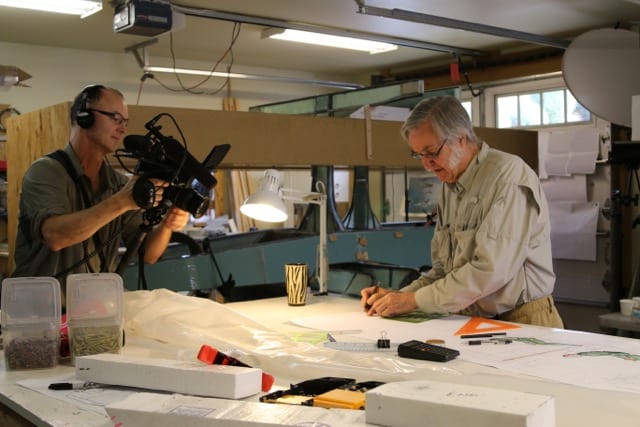 "I'm going to go home, work at a slow pace, and do the test program right," said Rutan at the conclusion of his forum. He promised to bring the plane to Oshkosh next year and perhaps invite the ICON amphibian to a fly-off.
Although he stopped offering plans of his aircraft designs long ago, Rutan was cagey about what a friend of his might market once the design is proven.
So, stay tuned for further news about what could be one of the most versatile flying machines ever designed.