Lately, if you turn on the evening news, the lead story — sometimes the only story — is the COVID-19 pandemic.
One of the most disturbing parts of the coverage is the "experts" who are interviewed. They keep giving conflicting advice on what to do or not to do.
If they were truly medical experts, you'd think they could get their recommendations in line. But, unfortunately, they are mainly paid consultants who need to come up with an interesting angle or one that fits into a certain political agenda.
So what does this have to do with general aviation?
I am using it as an example of what "experts" will say if you are trying to settle an engine damage complaint or, even worse, a lawsuit. I have seen some of these "experts" come up with some of the wildest theories on an engine failure — theories that often defy the laws of nature and physics as we know them.
Tip 1: Keep an engine log
In my last column, I talked about fuel quality concerns and some of the things to look for. Now I would like to address some of the steps a pilot should take to protect their plane — and their finances.
First thing is an engine log. It does not need to be a formal thing, but on a long flight, you need to record the time, engine RPM, manifold pressure, speed, temperatures, plus any additional information like CHT and EGT.
Do not take the readings on climb out, but rather at a steady state condition.
After a while you will see a trend and can note differences. I am not talking about small differences, but rather a significant change.
This log will help you become more familiar with your aircraft and will help you and your mechanic diagnose any problems that might occur.
Tip 2: Always get a fuel sample
An example of a problem that can occur is misfueling with Jet A.
If your plane gets a complete load of Jet A, you will know it usually right after takeoff when your engine starts hammering and quits.
A more common occurrence is to get just a little Jet A in your fuel. This can occur at the plant or anywhere in the distribution system where part of the fuel system is used for multiple products and may not be properly flushed.
If your load of fuel contains, say 5% to 10% Jet A, you will lose roughly over one octane number per percent of contaminate.
So now your 100LL could be around a 90 lean rating. That's OK if you have an 80/87 engine, but if you have a high-performance turbocharged engine, it is not.
For example, say you are on a long cross-country flight and stop for fuel. During climb out your engine starts running rough, but you keep going because you are in a hurry.
During the flight you notice the engine is smoothing out some, but still running rough and temperatures are above normal. At your next stop, you check your engine out and everything seems OK, so you fuel up and continue on.
But when you get back home, you and your mechanic check your engine over and find that you have had detonation in several cylinders and they need replacing — at a very significant cost.
If you go back to the FBO where the suspect fuel came from and ask for reimbursement for the repairs, I doubt very seriously that the FBO's owner would run to get his checkbook.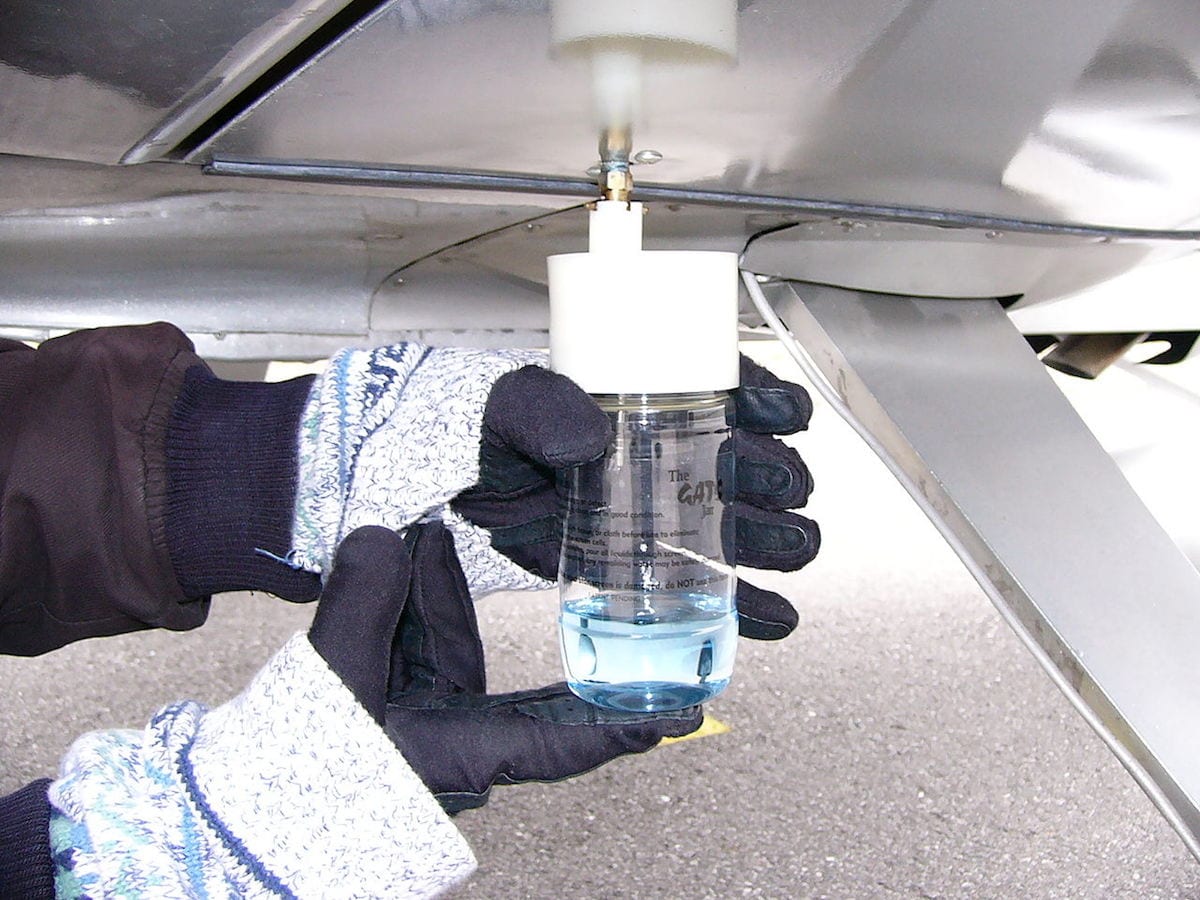 However, if you had gotten a fuel sample after fueling at that FBO, you could send it in and have it analyzed. You do not need a huge gallon sample or even a quart. A small bottle with just a few ounces works.
With just a few ounces you can get a true boiling point distillation by gas liquid chromatography that will easily tell you if you have a significant amount of Jet A in your fuel.
Now when you go talk to the FBO owner or even his lawyer, you have a very good chance for a settlement.
Always carry a small bottle with you and get a sample whenever you suspect a problem with the fuel.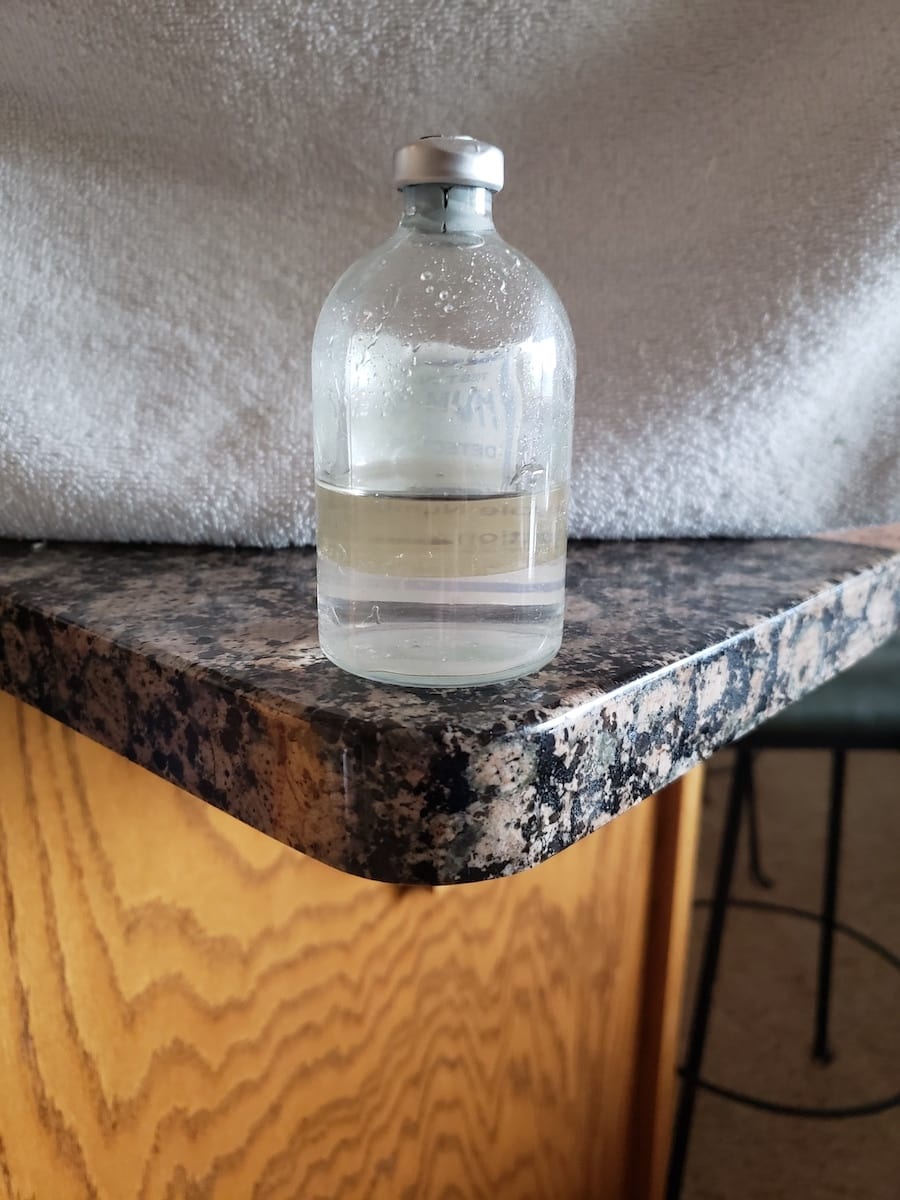 I know most pilots do not want to mess with all of this technical stuff. They just want to get in and go.
But with the high cost of flying, it is always good to be prepared for problems before they occur. Otherwise your only option is to hire an "expert" to go head to head with their "experts" — and watching the evening news shows us how that is going to turn out.