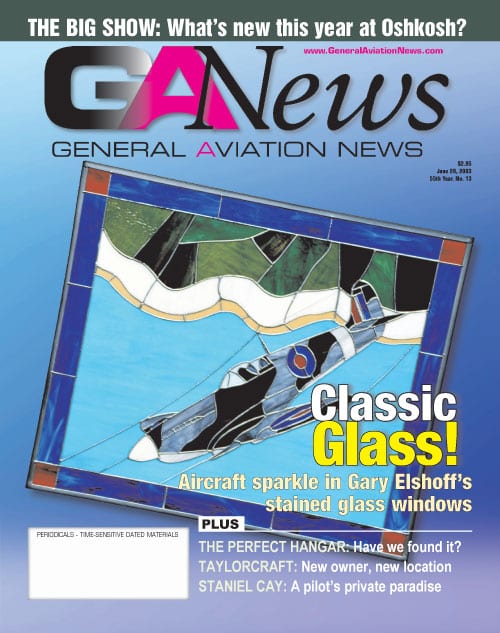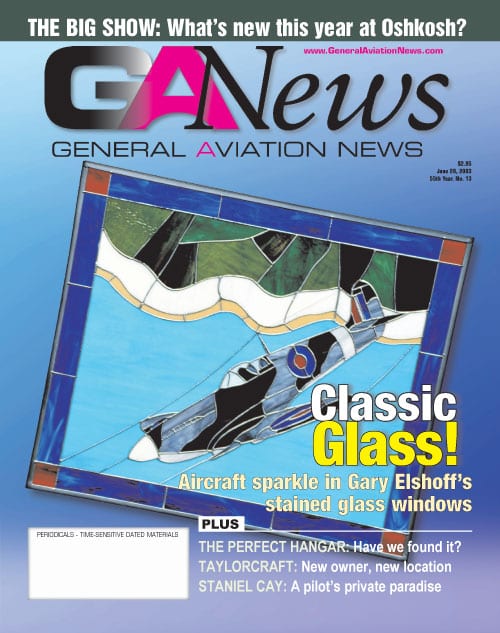 By Marcia "Sparky" Barnes
For General Aviation News
Gary Elshoff took to heart the last words his father said to him before he passed away: "Whatever you do, do it well."
It's easy to see that Elshoff is living up to that standard when you behold his vibrant and painstakingly detailed stained glass aviation art.
Gary Elshoff's childhood home was located directly below the flight path for the main approach to General Mitchell Airport in Milwaukee, Wis. He clearly remembers the Wisconsin Air Guard F-89 Scorpions, the Capital Airlines Constellations, and North Central DC-3's flying over, one after another. Those lasting impressions, spurred by his own son Jeffrey's enthusiasm for aviation as an aerospace engineering student, lured him into the field of aviation.
But he hasn't taken the traditional approach by learning to fly. Instead, his artist's calling led him to express his love for aviation via the centuries old art of creating stained glass windows.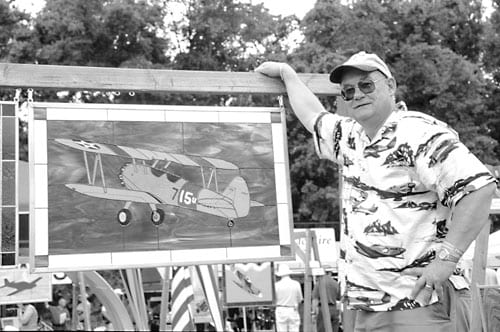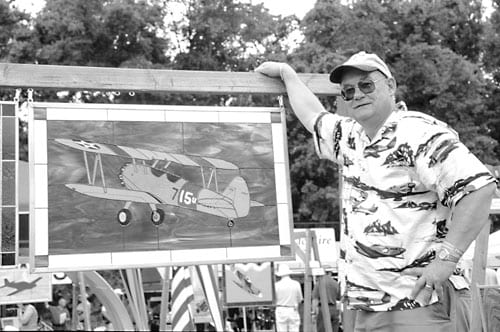 Elshoff was first inspired to work with stained glass when he discovered an old stained glass lamp, nearly camouflaged from 30 years of dust, in his grandfather's basement.
Today, he is a self-taught stained glass artisan, who put himself through the University of Wisconsin at Milwaukee years ago by selling small stained glass sun catchers. He created his first stained glass airplane piece about 15 years ago, and hasn't stopped since.
A window of opportunity was forced open for Elshoff when he was downsized at his job selling diesel engines. "That was about a year ago," he says. "I pulled this business plan out of the drawer that I'd made 12 years ago. Now I have my business, Flying Colors Glass, LLC, and I'm working with stained glass full time, and I love it. Everyone in the aviation community has been so nice and encouraging, and I've also been blessed with family members and friends who have been very supportive."
He creates small and large stained glass windows, with handsome and accurately scaled aircraft whose intricate details he gleans from pictures, line drawings, or personal observation. And when he goes to air shows like Sun 'n Fun or Airventure, he finds new inspiration from the air show performers' exciting, precision aerobatic routines.
Illustrating his eye for detail and composition, one of Elshoff's windows features an aerobatic red, white and blue Pitts at the top of a hammerhead in a crystal clear sky, leaving a smoke trail created by a section of white and clear twirled glass. Another window showcases a Stearman in a lustrous sapphire blue sky. One of the most challenging aspects of this particular design was locating the marigold-colored glass to represent the biplane's actual color, Elshoff notes.
A bright scarlet Stinson Voyager flies swiftly through another window, with its speed in flight portrayed by a myriad of slipstream swirls and whirls surrounding the aircraft in the translucent background glass, accentuated by sunlight streaming through the entire scene.
Other windows featured a variety of aircraft, including Beechcraft Staggerwings, P-40s, Spitfires, and Ercoupes, with everything from blue-sky backdrops to the white cliffs of Dover.
Elshoff feels that "a picture makes a statement, while a stained glass window makes a suggestion." Accordingly, he has developed a style uniquely his own when it comes to designing and creating his stained glass art.
"I usually make the background from one big sheet," he says, explaining, "it isn't individual pieces cobbled together. I make these windows like a donut—I make the hole first (the airplane), then I'll find the background I want. I literally lay that unfinished airplane on top of the background glass, and trace the outline of the plane on it. Then I figure out where my other cut lines are going to be, and then I cut it. So I've preserved the integrity of that image, as showing it flying through that window, as if it's coming at you." Or, put another way, he says he can "turn a plain window into a plane window!"
If you're unfamiliar with stained glass work, it involves materials that are readily available commercially. One basic method used in creating a stained glass piece includes wrapping individual pieces in copper foil and butting them together. Then a seam is soldered, using a standard solder. The length of time required to create a window can vary. Elshoff says his lead time is at least six weeks, with the price on a commission starting at about $150 per square foot. But if the work becomes more complex, it can cost more.
It seems like there are always obstacles to be tackled, and lessons to be learned, whether you're working in aircraft restoration or creating airplanes from stained glass. Some of Elshoff's challenges he has recently overcome were design and composition limitations. Originally, he worked with the glass and colors just as they were made. But as he developed his style, he found that the glass itself limited him.
"Then I learned how to paint details onto the glass, and now I can include things on that individual piece of glass that I could never think about doing before," he explains. "It's an old technique. If you've been to a church or cathedral and seen the stained glass windows that were made hundreds of years ago, you may have noticed that they depict faces and images that are very distinctive. You can see detail in there that you can't create with just an ordinary piece of glass."
Elshoff has replicated that ancient technique by using different iron oxides he paints onto the glass. This type of painting serves the purpose of blocking, or altering, the light passing through the glass, instead of creating the reflection of colors and images, as in a traditional painting. Then he fires the glass in a kiln for about six hours, which fuses the paint with the glass. According to Elshoff, the paint will stay on the glass virtually forever, if proper care is taken of the glass.
The technique allows him to include fine details in the designs, such as individual N numbers, an aircraft's unique accent trim design, or manufacturer logos.
Elshoff says he is amazed at the way people approach his work.
"They don't expect to see stained glass windows of airplanes," he says. "I'm literally introducing an entire new medium into the world of aviation. And I will always strive to learn more about my art to maintain a high standard, and to be very professional and honest while doing so."
For more information, call 262-377-5505 or visit Elshoff's web site, FlyingColorsGlass.com, which was created by Sean Sandell, the son of Elshoff's friends and a sophomore in high school.