1902 – Cessna 120/140
1946 Cessna 120 TT4418 Continental O-200. Hangared. Owner is A&P. Can't pass medical. $24,000. rgsonsnv@gmail.com Nevada
---
1904 – Cessna 150
BUYING OR FLYING A CESSNA 150/152? Read the complete, authoritative guide! Third Printing! Officially endorsed by the 150/152 Club! Fly safer, save thousands. You'll love it! www.cessna150book.com
---
2030 – Cessna Parts
Univair carries thousands of quality FAA-PMA approved and original Cessna parts specifically for the Cessna 120, 140, 140A, and 170 series. We've also been adding new items for the Cessna 150, 172, 180, 182, and 185. Cessna replacement parts in good shape can be hard to come by. Thankfully, Univair is an FAA-PMA Cessna aircraft parts manufacturer and supplier, and we offer a wide variety of Cessna plane parts. Order toll-free at 888-433-5433 or at univair.com.
---
Cessna Tail Slide! Prevents damage and downtime from a tail strike. Great for rough or off field operations. Perfect for flight school fleets flying 172, 172RG, 175, T-41 and Hawk XP. Also available for 182, 205, 206, 207 and 210. STCd for all models. Validated for Canadian aircraft. www.MiddleForkMods.com or 208-879-6637 for more information.
---
SELKIRK AVIATION Inc. has FAA approval on composite cowlings for all Cessna 180, all 185 & years 1956-1959 Cessna 182 planes. Also interior panels, extended bag kits, glare shields & nose bowls for most Cessna 170 to 207 models. www.selkirk-aviation.com or 208-664-9589.
---
2550 – Ercoupe Parts
Univair is the Type Certificate holder for the Ercoupe 415 series, Forney, Alon, and M-10 Cadet. We have thousands of quality parts specifically for these airplanes. Many of our Ercoupe parts are made on the original tooling. You'll find tracking down Ercoupe parts for sale difficult at any site other than Univair—we're the only manufacturers of Ercoupe parts in the world! Order toll-free at 888-433-5433 or at univair.com.
---
3310 – Luscombe Parts
If you need Luscombe aircraft parts, there's no better team to turn to than the one at Univair. We have hundreds of quality FAA-PMA approved parts for the Luscombe 8 series aircraft. We understand how important it is to preserve and restore these parts of aviation history, and we're dedicated to ensuring the upkeep of Luscombe airplanes. Order toll-free at 888-433-5433 or at univair.com.
---
3920 – Piper Parts
Univair carries thousands of quality parts for classic Piper aircraft. We specifically support Piper models J-3, J-4, J-5, PA-11, PA-12, PA-14, PA-15, PA-16, PA-17, PA-18, PA-20, PA-22, and PA-25. Inventory includes: FAA-PMA parts (manufactured at Univair); New Old Stock (original surplus parts from Piper), new parts (never used or refurbished); and brand name accessories and supplies. Our original and replacement parts can keep your plane in peak flying condition. Order toll-free at 888-433-5433 or at univair.com.
---
4455 – Stinson
Univair is the Type Certificate holder for the Stinson 108 series. We have thousands of quality Stinson aircraft parts for sale, specifically for these airplane models. Many of our Stinson parts are made on the original tooling. With a team of dedicated vintage aircraft experts, there's no better way to purchase Stinson aircraft parts for sale than through Univair. Order toll-free at 888-433-5433 or at univair.com.
---
4600 – Taylorcraft
1940 Taylorcraft BC65/75. Always Hangared. 2600-TT, 1030-SMOH. LSA. Arizona Plane. $15,000 OBO. 503-630-7547. Leave Message. May 2019 Annual.
---
4605 – Taylorcraft
We have hundreds of quality FAA-PMA approved parts for the Taylorcraft B series and F-19 series aircraft. Taylorcraft restoration is especially important considering the brand's longevity and history, which stretches all the way back to 1939 and earlier. As a result, Univair prides itself on its selection of Taylorcraft parts for sale. Order toll-free at 888-433-5433 or at univair.com.
---
5300 – Experimentals
Europa XS Monowheel fast build kit. No major layups. Everything firewall aft. Located western Oregon. 503-341-1968.
---
6560 – Books
The books Stinson's Golden Age (covers the 108 from 1938-1950) and Luscombe's Golden Age (all Luscombe models included in detail) are available from windcanyonbooks.com/209-981-0467.
---
6900 – Employment
Sales Consultant / Project Manager. RAM Aircraft has an open position in Waco, Texas for a trained and experienced sales professional able to manage complex airplane and engine projects. Knowledge of General Aviation piston aircraft and a pilot's license could be helpful, but not required. Honesty, self-motivation and the ability to learn a complex product line are. Send resume to tdunn@ramaircraft.com. RAM is an airplane parts manufacturing, engine & parts overhaul facility with a worldwide reputation for quality. Learn more at ramaircraft.com
---
6950 – Engines
No matter your plane's age or model, one fact always rings true time and time again; airplane engine parts wear down and eventually break. That's why Univair stocks all kinds of different aircraft engine parts for sale. We have just about every piece you could need, from air filters to spark plugs, and everything in between. Order toll-free at 888-433-5433 or at univair.com.
---
CASH: WE BUY Continental & Lycoming engines & parts. Used, new, damaged. Jerry Meyers Aviation. meyersaviation@gmail.com 888-893-3301.
---
KAWASAKI PACKAGE – SAVE 50% Engine, reduction drive, carburetor, and tuned exhaust. 0-time, 64 lbs, 40hp. J-Bird, 262-626-2611, call for free catalog.
---
T28A with big tanks and 1820 76 1425hp. Needs prop AD, tires, battery. 7100-TT, 222-SMOH. $60K. 928-726-0787 or yumaaircraftsupply@gmail.com
---
C-85 and O-200 STC allows the use of an O-200 Crankshaft, Rods and Pistons in a C-85 engine, for less than the cost to replace your C-85 crankshaft. Complete with FAA certification and STC paperwork. For more information and prices call AIRCRAFT SPECIALTIES SERVICES, Tulsa, OK 1-800-826-9252.
---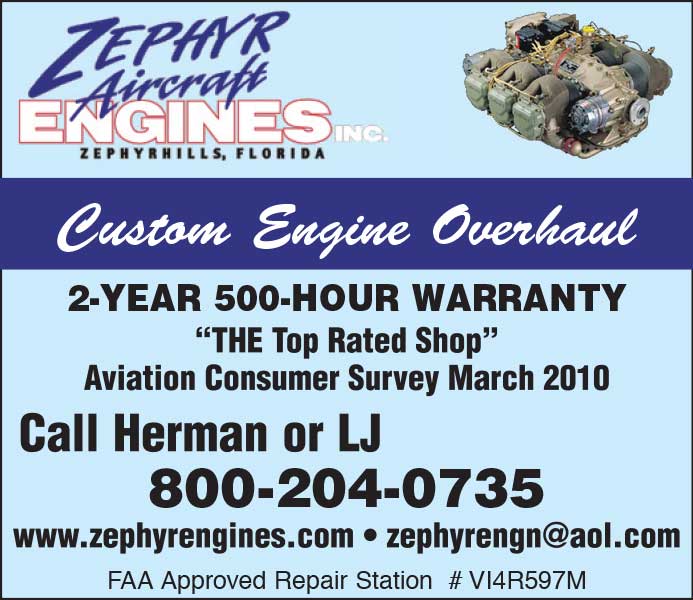 ---
ONE STOP AVIATION with 35+ years experience. Your One Stop for Cylinder Overhaul and Repair, Engine Overhaul, New Millennium Cylinders, Sunnen Crankshafts, Non-Destructive Testing, Prop Strike Inspections, and much more. onestopaviation.com or 760-721-1389 to get your estimate.
---
6955 – Engine Parts
CRANKSHAFTS, CAMSHAFTS, RODS AND LIFTERS most makes and models overhauled, reconditioned, reground. Complete aircraft engine Machine Shop Services. Heat treating, plating, NDT. Also complete new and used parts sales. Call AIRCRAFT SPECIALTIES SERVICES, Tulsa, OK. 1-800-826-9252
---
PARTING OUT Lycoming & Continental engines, all parts, large & small! Cores & overhauled parts available. Jerry Meyers Aviation. meyersaviation@gmail.com 888-893-3301.
---
6990 – Equipment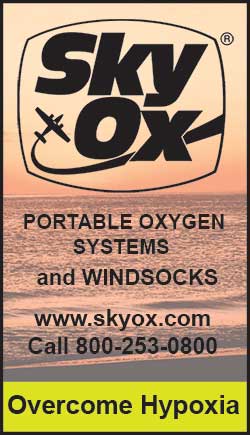 ---
7215 – Fuel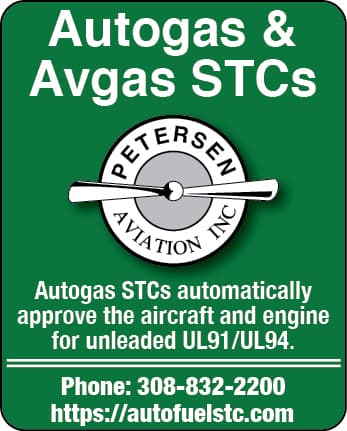 ---
7300 – Hangars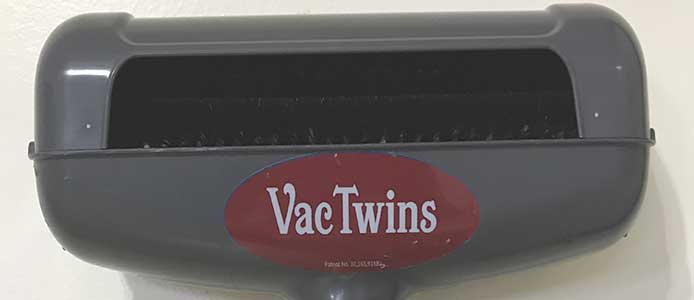 VacTwins for ceiling fans, ceilings. Remove nasty cobwebs, bugs and dust off your beams and walls in hangars. Hooks to most vacuums. Reaches to 20'. 334-332-3457, vactwins.net.
---
100'x50′ like new hangar for sale at Waterville, WA (2S5). Building only. Schweiss bifold door. $260,000. Call 509-387-5423.
---

We design and ship pre-engineered steel hangar buildings. The Hangar door style of your choice is included in the design. Imperial or Metric, containerized for export or shipped domestic. 719-268-1325, RapidsetBuildings.com
---
RIVERSIDE MUNICIPAL AIRPORT, So. California, Exec T-hangar for rent or sale, perfect for single engine. $15,000 to buy, $365/month to rent. Call or email for exact dimensions. Available now. Michelle, Pacifica Commercial, 805-237-4040, michelle@pacificacre.com
---
7350 – Instruction
Tailwheel Instruction/Endorsement, Upset Training/Recovery Course, CFI Spin Training/Recovery Course, Stearman Instruction. Top notch equipment: J-3 Cub w/electrical, Citabria GCAA 160 hp, Decathalon 8KCAB 180 hp. Bremerton Nat'l Airport, (25-mi west of Seattle) www.oldethymeaviation.com Text: 206-730-1412 or call Tom Rogers: 253-350-5262.
---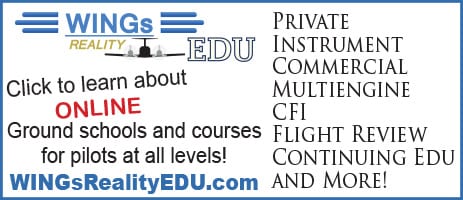 ---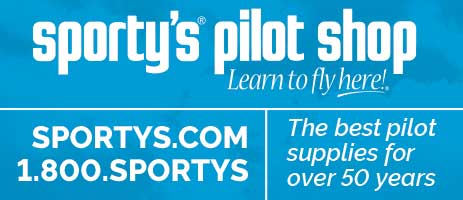 ---
7400 – Insurance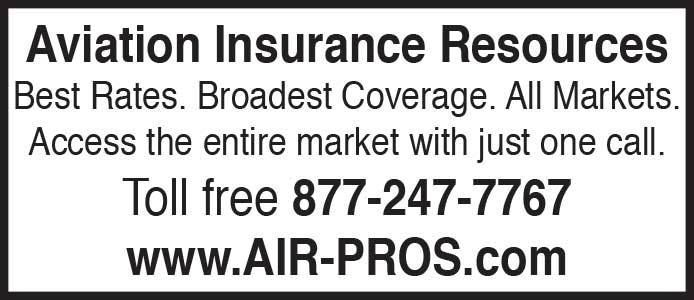 ---
7450 – Legal Services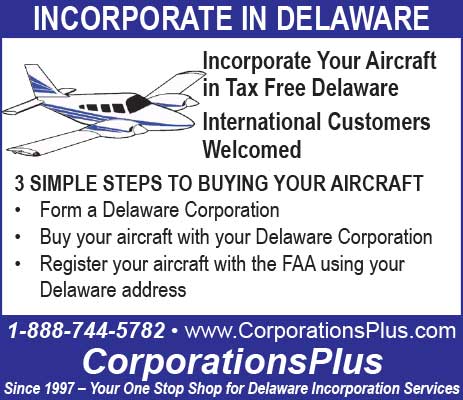 ---
7700 – Miscellaneous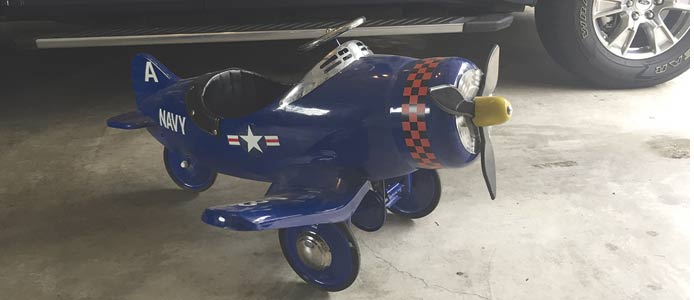 Airflows Collectible F4U Corsair peddle plane. Excellent condition. Can deliver locally in Seattle area for free, shipping extra. Price $700. 360-297-1324.
---
8150 – Parachutes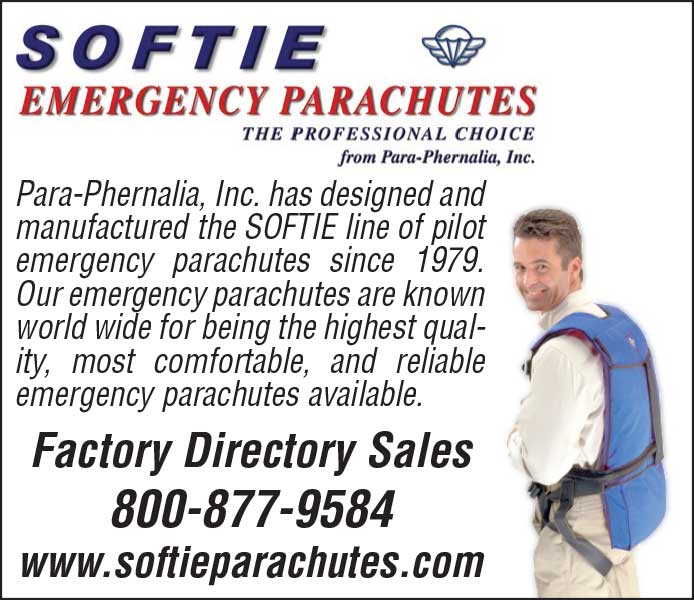 ---
8225 – Parts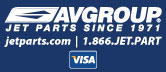 ---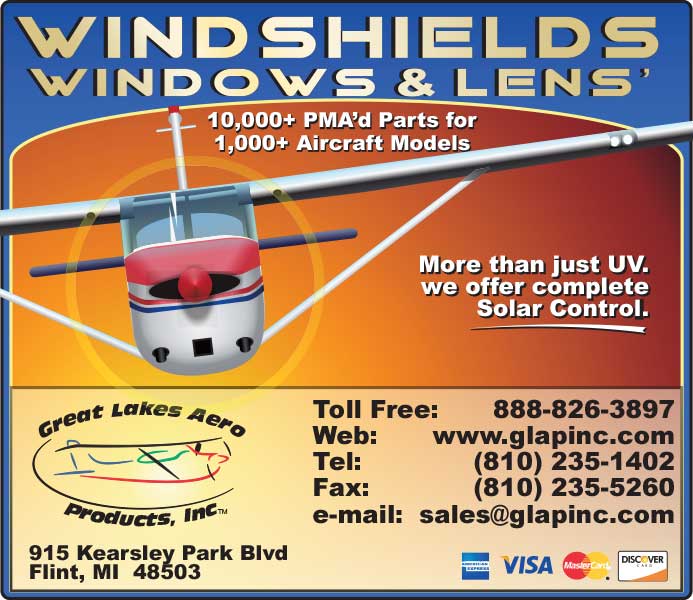 ---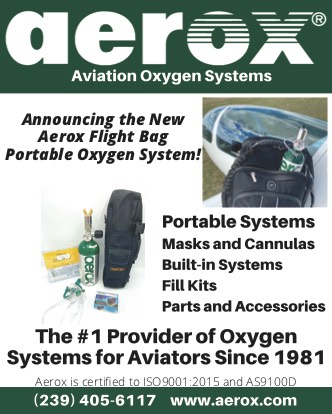 ---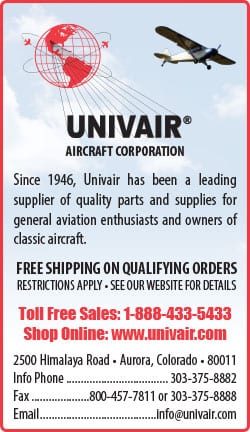 ---
8370 – Polishing and Plating
RAMOS PLATING and POLISHING: Repolish your aluminum spinners, chrome pitot tubes, airsteps, valve covers, nuts, bolts. Also cadmium plating. 45yrs OK City, OK 405-232-4300.
---
8400 – Propellers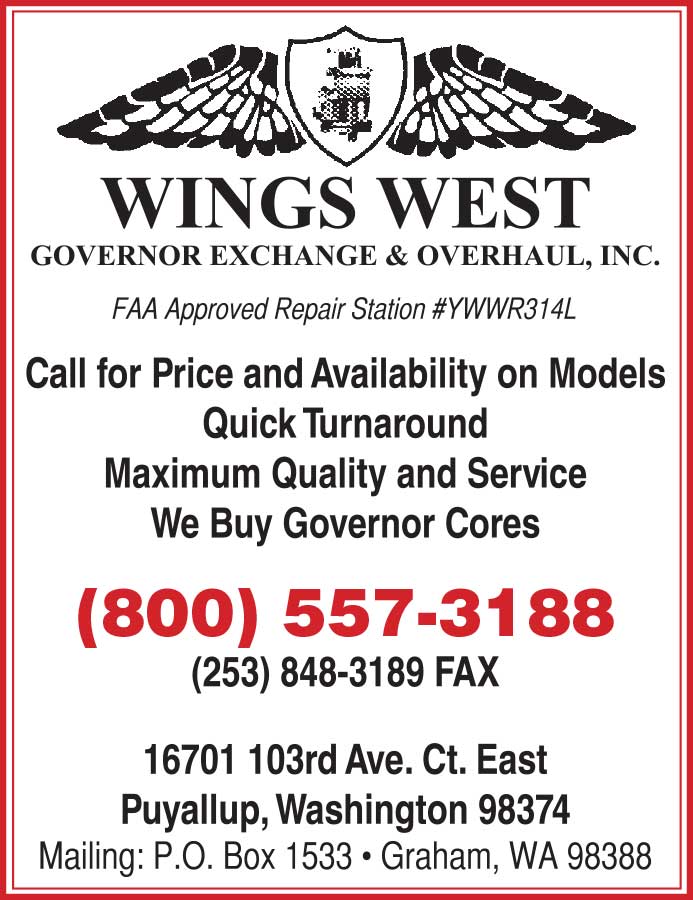 ---
8870 – Skis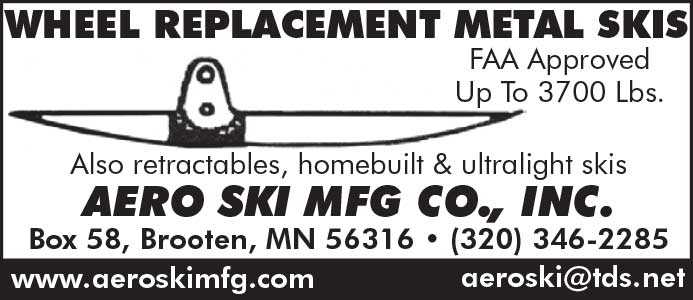 ---
8890 – Software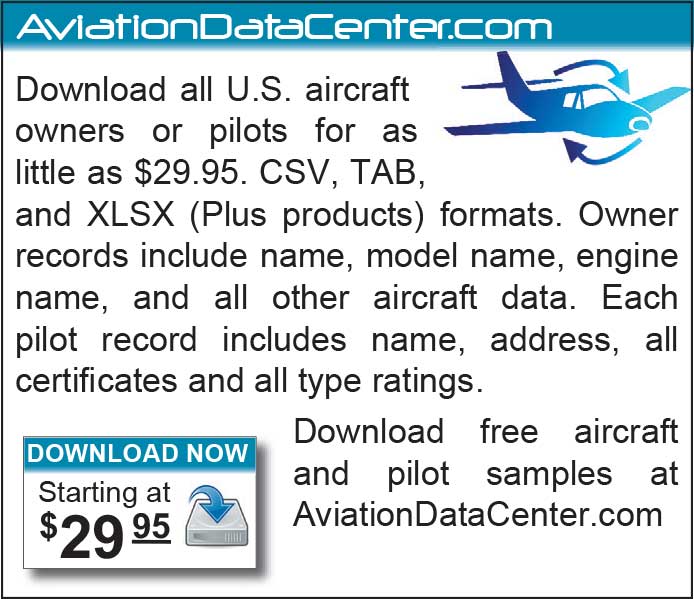 ---
9000 – Survival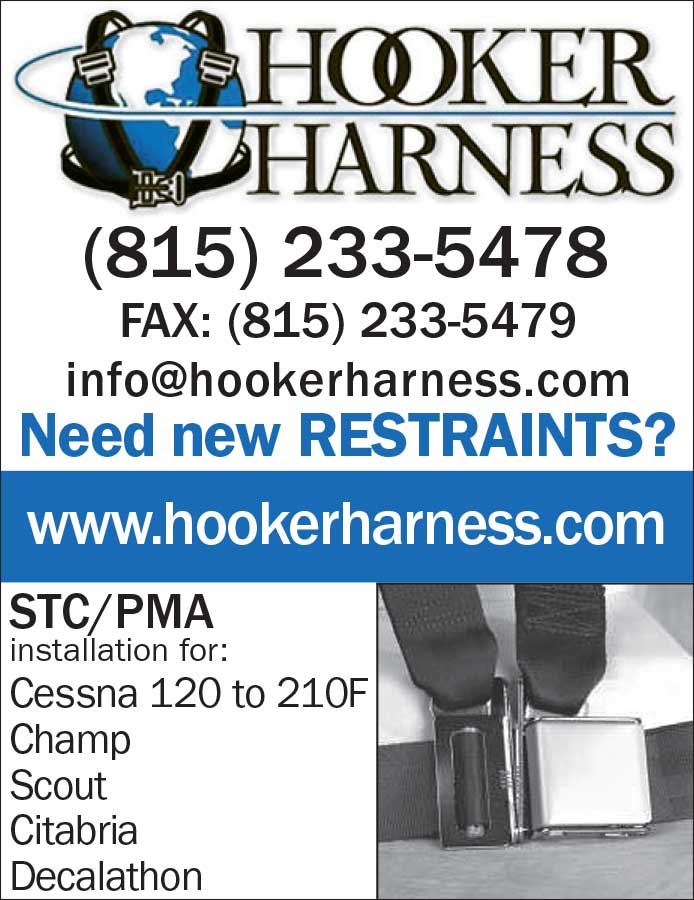 ---
9650 – New Mexico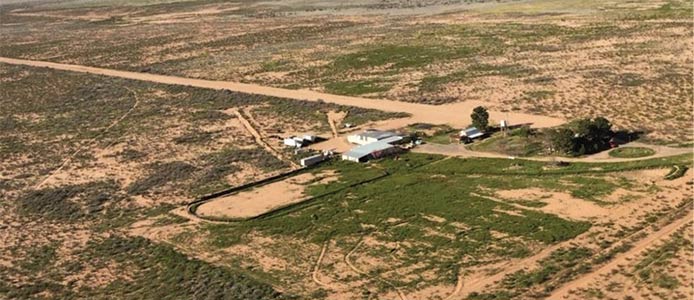 Secluded 160-acre ranch with airstrip (NM12) and large hangars in SW New Mexico. Beautiful log home with full basement. Dozens of fruit trees and no neighbors! Good access. Yes, it has electricity and private well. Get away from it all! ronorozco.wordpress.com/ or 520-609-5026.
---
9650 – North Carolina
We Sell Airpark & Airstrip Properties in North & South Carolina. See our inventory at www.carolinaairparks.com/ Call or email us to find or sell your aviation real estate in these states. 704-798-5214 or geneva@nc-airparks.com.
---
9650 – Real Estate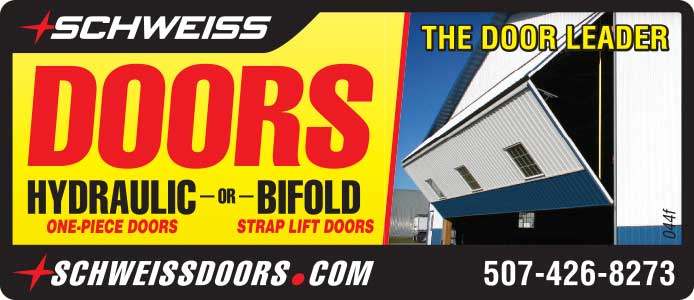 ---
9650 – Texas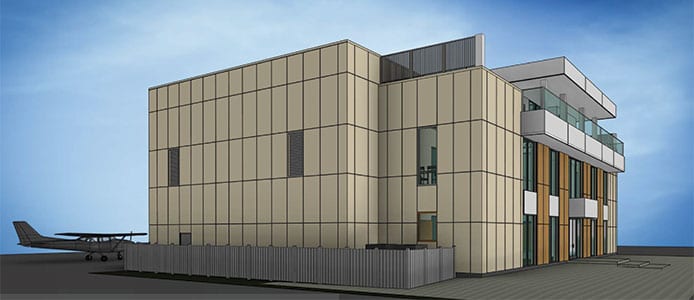 West Houston Airport a GA favorite! 24/7/365 – Fantastic Amenities! Properties for Sale and Lease. Come visit and you won't leave! Woody Lesikar, 281-492-2130, woody@westhoustonairport.com, www.westhoustonairport.com.
---
9650 – Washington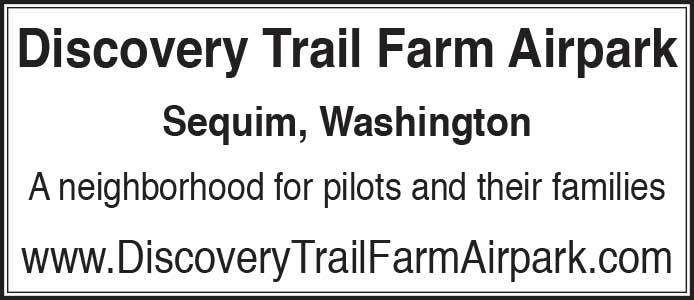 ---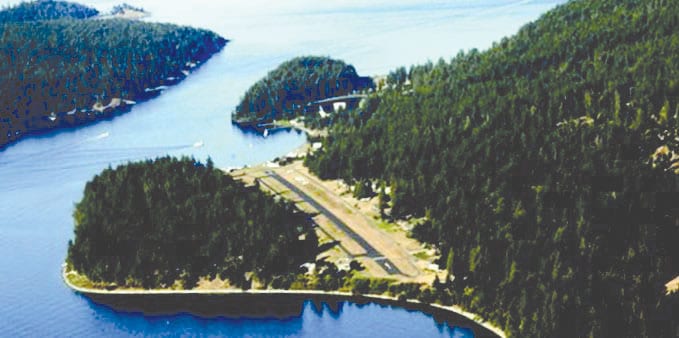 SAN JUAN AVIATION ESTATES: BLAKELY ISLAND, WA. The San Juan's Premier Airpark. Paved/Lighted Runway. Exceptional Marina. Owner Access to 3000ac protected forestland w/2 – 70ac Lakes. Runway/Marine View Home: $490K SOLD. Contemporary Runway/Marine View Home: $399K PENDING. Waterfront Parcel: $404K. Taxiway Cabin: $339K SOLD Judy, Flying Island Realty, 360-420-4346, judy@flyingislandrealty.com, www.flyingislandrealty.com
---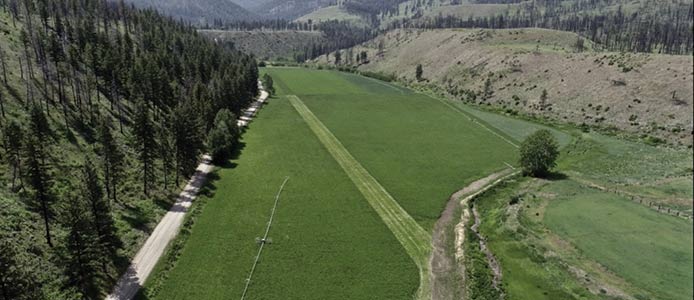 Fly Into Your Own Private (Methow) Valley w/2600'x32′ Irrigated Lawngrass Runway, Extendable To 4000ft. 430 Acres With Adjudicated 1st Class Water Rights. Turn Key Operation w/1.5 Miles Creek Frontage And Ponds. Hunting, Fishing, Hiking, Skiing, Horseback Riding And Snowmobiling Out The Front Door. USFS on three sides. County Road. Seller Financing. methowranchforsale.com, or jzwar51@gmail.com, or 509-923-2564.
---