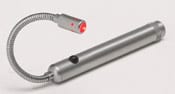 A flexible neck flashlight with a super-bright red or white LED is now available from Sporty's.
The light's flexible 3-inch neck can be twisted and turned to illuminate charts or for emergency panel lighting. An included clip allows the light to be attached to a hat, shirt or a seat belt so the light can be aimed precisely where it is needed, according to Sporty's officials.
The flashlight operates on one AAA battery, which is included.
Price: $19.95.
For more information: 800-SPORTYS or Sportys.com.