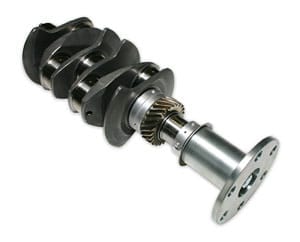 Sonex Aircraft, LLC has released the latest enhancement to its AeroConversions AeroVee Engine Kit: An upgrade that includes a pre-assembled prop hub/crankshaft assembly.
The upgrade, which costs $295, makes the AeroVee Engine simpler to build, Sonex officials said.
While most AeroVee customers have successfully installed the shrink-fit AeroVee prop hub using simple tools and the step-by-step instructions and illustrations given in the AeroVee Assembly Manual and companion AeroVee Assembly DVD, some customers have encountered difficulty performing the installation and requested the new option, according to Sonex officials.
The AeroVee 2.1, a VW Conversion Engine Kit Package, is a 2,180 cc, 80-hp aircraft engine that can be run on 100LL or auto fuel. The complete package weighs 161 lbs. complete. All of the supplied components are brand-new, zero-time parts including conversion parts machined out of solid billet.
The kit can be assembled in approximately 12 hours, with the aid of an AeroVee Assembly Manual and an instructional DVD, according to Sonex officials. The DVD is available for purchase separate from the engine kit to aid customers in their engine purchase decision, officials add. A complete AeroVee/Sonex Installation Guide is provided, along with free telephone and email technical support. An AeroVee engine on-line discussion group also is available.
For more information: SonexAircraft.com and AeroConversions.com