The Collings Foundation is now accepting reservations for its World War II Bomber Crew Fantasy C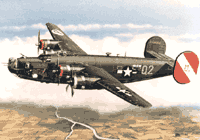 amp.
The camp will be held May 26-27 at the Stockton Field Aviation Museum Hangar at Stockton Municipal Airport (OS2) in California.
Reservations are available for 32 positions (two crews of 16 each). Cost is $3,900 per person, which includes accommodations for two nights. Participants must be 16 years or older. Those 16 to 18 must be accompanied by a legal adult guardian.
The two-day camp will begin with pre-mission training, which includes a history of heavy bombers in World War II, theaters of operation and primary missions; identification of crew positions and duties; crewmember orientation to essential equipment; gunnery orientation; and target practice.
On day two, the crew will fly the mission in the B-24 Liberator "Witchcraft."
Each crewmember will receive training materials, flight suit, eye and ear protection. Live rounds will be used at gunnery range and blanks will be used during the mission. Each crewmember will be issued: 50 rounds/50 cal. blank, 10 rounds/50 cal. live, 15 shot gun rounds, shotgun and targets. Additional ammo will be available for purchase. Mission flight time will be approximately 1.5 hours. Dummy bombs will be used (manufactured to original specifications), with a bomb drop on the second day of the camp.
Pilots also have the opportunity to fly as a P-51 Mustang escort fighter pilot ($4,000) or can pilot a Messerschmitt Me-262 ($5,000).
For more information: 800-568-8924 or CollingsFoundation.org.