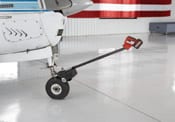 The Robotow is a lightweight, electric towbar designed so one person can easily move an airplane in and out of a hangar.
The new Heavy Duty model, available exclusively from Sporty's, features a 28V battery that is powerful enough to move heavy twins such as an Aztec, Baron or even a Cessna 421. Its cordless design requires no electrical outlet, and is ideal for T-hangars, community hangars or tie-downs, according to Sporty's officials.
The Robotow attaches like any other towbar, and its friction drum is held against the airplane's nose wheel to move the airplane. A pistol-grip handle allows for precise speed control, and the Robotow can change from push to pull with the flip of a switch.
Weighing in at under 30 pounds, it comes with battery and battery charger. The Robotow requires the use of aircraft-specific axle adapters, also available from Sporty's.
Price: $1,199.95.
For more information: 800-SPORTYS or Sportys.com.