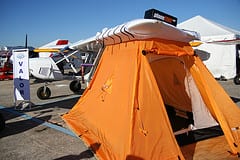 Does it make you cringe to throw a blue plastic tarp over the wing of your airplane to create a shelter for camping? Do you worry about the tarp scratching the finish? Have you or your airplane ever been attacked by hostile tent poles?
Bjorn Spelter, a pilot since 1992 and an avid outdoorsman, thought there had to be a better way to utilize the wing of his Remos G3-600 for shelter in the Great Outdoors. Last April, he came up with a solution: PlaneTENT. The tent has cloth loops that slip over the wing like a sleeve. The wing becomes the roof of the tent.The result is a wind- and rain-proof shelter.
"I was looking at my wing one day and realized there was nothing like this on the market," he recalled. "It fits about 97% of the high- wing airplanes out there. It is good for Cessna 172s, 182s and most of the LSAs."
The PlaneTENT was part of the FPNA exhibit at the U.S. Sport Aviation Expo in Sebring, Florida, in January. The bright orange tent attracted the attention of a lot of pilots, including many who had a horror story to tell about trying to pack tent poles in their airplanes.
"This is much easier," said Spelter. "You can see for yourself in April. We will be exhibiting again with FPNA at Sun 'n Fun."
The PlaneTENT sells for $399.
For more information: PlaneTENT.net.