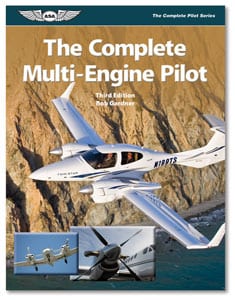 The third edition of "The Complete Multi-Engine Pilot" by Bob Gardner remains a favorite among students and instructors.
Known as simply one of the best textbooks available for learning multi-engine flying, "The Complete Multi-Engine Pilot" presents the fundamentals of flying multi-engine aircraft and the aerodynamic laws that govern multi-engine flight as only Gardner's experienced, comprehensive and energetic delivery can.
Gardner's textbooks have been in publication since 1985 and are continually updated and expanded to keep up with FAA regulations and procedures, technology, and industry practices. The Complete Pilot Series is designed for use in certified flight schools, for home study, and as a base for student kits.
Review questions conclude each chapter. Includes illustrations throughout, a glossary, and index. A comprehensive flight and ground training syllabus is included in the Appendix. Softcover 8-1/4″ x 10-3/4″, 184 pages.
Price: $24.95.
For more information: ASA2Fly.com