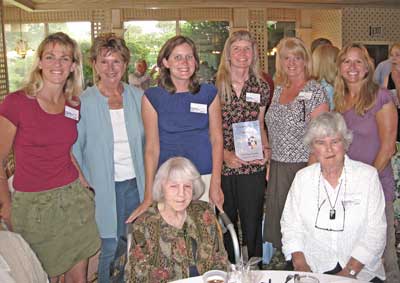 Seven of the nine women pilots featured in A Hunger for the Sky, along with author Sparky Barnes Sargent, attended a gathering and book signing during the Swift Nationals Fly-in at McMinn County Airport, Tennessee, on May 23. The event was held to celebrate the pilots' accomplishments and to honor Evelyn Bryan Johnson, a Tennessee pilot for nearly 65 years, who will be 100 years old in November. Hosts for the book signing were the Swift Museum Foundation and the City of Etowah.
A Hunger for the Sky is a collection of biographies of women pilots. The book tells the personal stories of nine women who were drawn irresistibly to the sky. They include a professional skywriter, an airline first officer, a DC-3 captain, a Guinness World Record holder, and the owners and operators of a gliderport and an aerobatic school.
Each chapter is devoted to one woman. Readers learn who the women were as young girls, follow them into adulthood, learn about their attraction to aviation, and discover the skyways they have chosen.
For more information: http://home.windstream.net/av8terz/book.html