GloveLite solves the cockpit flashlight issue.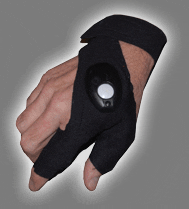 GloveLite is a neoprene cover for the index finger and thumb that has two 3-mm LEDs integrated into the fabric. The motion of your fingers draws the light to your fingertips so you can read a map or approach chart. LED colors are available in red, green and white.
Price: $29.95.
For more information: GloveLite.com.