The AMT Graphics CD has been updated with full-color images to help educators provide maintenance students with the best learning experience.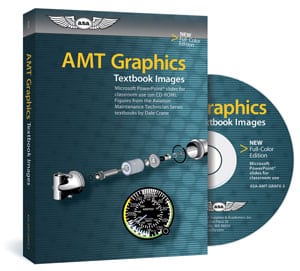 AMT Graphics-Textbook Images is a CD-ROM of Microsoft PowerPoint slides that includes all of the figures, tables and charts found throughout ASA's AMT textbooks by Dale Crane. More than 2,000 slides are included, illustrating the entire span of Aviation Maintenance Technician FAA knowledge requirement subjects. The slides are categorized and labeled to make them easy to identify for the chapter and subject instructors want to use, according to ASA officials.
This comprehensive CD-ROM is sold separately but is also included with the AMT Series: Curriculum Guide.
The Aviation Maintenance Technician Series: Curriculum Guide, by Dale Crane, provides A&P instructors and educators course outlines, graphics, color transparencies, and tests. The Curriculum Guide also comes with the AMT Prepware CD so that instructors can use the "Quizmaker" utility to generate all types of exams, pop quizzes and master answer keys using actual FAA questions.
Price: $79.95. AMT Series Curriculum Guide is $199.95.
For more information: ASA2Fly.com.