Sporty's Chart Book will put an end to fumbling through a 300-page approach chart book while trying to fly. With Sporty's Chart Book, just slide the departure, destination, alternate and other approach plates into the plastic sleeves and you're ready to go. The charts are protected from damage, and the entire book can be used with a yoke clip.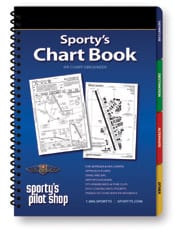 Tabbed dividers keep the charts separate and easy to find. The dividers also display pertinent information about each phase of flight, such as a flight plan sequence, cruising altitudes and speed limits, a crosswind component chart, a pilot report template and much more. Sporty's Chart Book holds either Jeppesen or FAA charts.
Price: $16.95.
For more information: 800-SPORTYS or Sportys.com.