Rivulets of sweat. Your shirt stuck to your back. Damp hair. Red face. Not a good combination for a comfortable flight, but it's what many pilots and passengers face flying in a hot airplane. When you land and the 95° air coming in your side window feels like a cool breeze, you know it's time for air conditioning.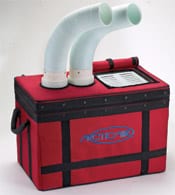 Sporty's now offers the Arctic Air, a portable air conditioning unit that works by blowing ambient air across a coil cooled by ice. The cool air is blown into the cockpit, providing a comfortable air temperature even in the hot summer sun and without adding humidity. There is no contact between the ice and the recirculating air; it is cooled through the heat exchanger.
"It may look a little odd, but the Arctic Air is priced affordably and more important – it works!" says Sporty's Vice President John Zimmerman. "The 'high' setting can lower your aircraft interior temperature by 35°."
To get and stay cool, place the unit in the airplane (on a seat or baggage compartment), fill it up with ice and plug it in to the cigarette lighter. The cigarette lighter adapter cord is 7-1/2 ft.
Since the Arctic Air is portable, no STC is required. The unit's fan does not interfere with the radios, and there is no compressor so the unit draws less than 5 amps. Upon landing, a drainage tube allows you to leave the Arctic Air in the airplane and empty the water out onto the ground. When not in use the unit can be left in the hangar (or the trunk of your car).
Multiple models are available, including 12 volt and 24 volt, single or dual fans, and small and large sizes. The average weight of the Arctic Air is 10 pounds when empty and 50 pounds when filled with ice and water. Prices range from $525 to $630.
For more information: www.sportys.com/arcticair.