When you fly alone, you need to organize your cockpit so that you're not searching for a pen, balancing a drink or reaching too far for charts and papers. That's where Sporty's Co-pilot Organizer comes in.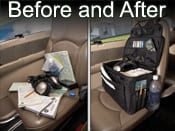 You can place the cockpit organizer on an open seat and secure it to the seatback with the included straps. Fill the various holders and pockets with all the essentials you need for your flight — from approach plates to Starbucks, from flashlights to a pen and spare batteries.
The Co-pilot Organizer transforms into a flight bag with wrap-around handles so you can put all the items back in your hangar or take them back in your car and home with you.
Price: $34.95.
For more information: 800-SPORTYS or Sportys.com.