Now available from Reader Plates, LLC are combined approach plates and Airport/Facility directories for the Kindle DX electronic book reader.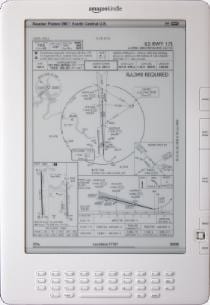 The FAA/NACO terminal approach procedures are organized for ease of use and are formatted for readability on the Kindle DX, according to officials with the Austin, Texas-based company. Each procedure is viewable and sunlight readable on a single page, without scrolling, using the lightweight reader that runs for days on a single charge.
Reader Plates were created for the Sony PRS-505 reader more than a year ago. While many pilots appreciate the convenience of the 6-inch reader, the most popular request has been support for a larger screen, company officials said, noting that request has been fulfilled with Reader Plates on the new 9.7-inch Amazon Kindle DX.
Reader Plates for the Kindle DX feature nearly full-sized plates that are easily chosen for display using the Kindle's five-way controller. Airports are listed in an index by identifier and in a table of contents by state and city. The table of contents for each airport includes a link to the Airport/Facility Directory page, along with the usual selections for approaches, arrivals, departures, minimums and airport diagrams.
Pages are tightly compressed to allow the Kindle DX to carry a current and upcoming cycle of Reader Plates for the entire U.S. With two complete cycles installed on a Kindle DX, there is still space available for more than 500 additional books.
Reader Plates are available for download at ReaderPlates.com via subscription for $9.99 per month. The Amazon Kindle DX is available from Amazon.com, and the Sony PRS-505 electronic book readers are available from many electronics retailers.