Michael Goulian won the Red Bull Air Race in Budapest on Thursday.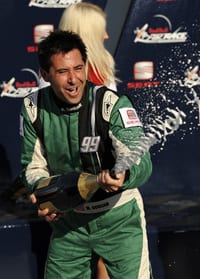 Britain's Paul Bonhomme grabbed second place and knocked Austrian Hannes Arch out of the championship lead in a battle over the Danube River in front of a national holiday crowd of 650,000. American Kirby Chambliss grabbed third place, which dropped Arch into fourth and off the podium for the first time in over a year. This was the fourth race in this year's six-race series.
"It feels amazing," Goulian said after clocking a winning time of 1:12.51 on the 6.6 km course. It was his first career victory and moved him up to 8th place in the overall championship with 18 points. "This has been four years in the making. It's been so hard to get the right machine, to get the engine working the right way. After four years of hard work this is amazing. I knew we had an airplane that could do it. It's a great win."
The crowd of 650,000 lining the banks of the Danube River was the largest of the season with stops remaining in Porto next month and the season-finale in Barcelona in October. The world's best 15 race pilots compete for points in the Red Bull Air Race World championship by flying through obstacle courses just above the water at speeds of up to 370 km/h and pulling up to 12G.
For more information: RedBullAirRace.com