DAYTON, Ohio — The annual Radio-Controlled Model Aircraft Air Show at the National Museum of the U.S. Air Force typically features jets, warbirds and other aircraft that visitors can see flying overhead. But this year visitors will have a chance to see these acrobatic maneuvers from a whole new perspective on Sept. 4-6.
John McNees and his partner Don Smith, two radio-controlled (RC) aircraft pilots, have inserted cameras in their planes. The cameras submit a live feed to multiple screens in a state-of-the-art trailer which will be located on the air show grounds. Controls in the trailer allow participants to move the camera angle up and down to get a view of the sky, ground even other RC planes flying around them.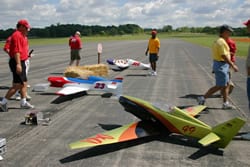 "I love all types of RC flying," says McNees who has been flying RC aircraft for about 12 years now as a hobby.
The idea to attach a camera to an RC aircraft came while working with small unmanned aerial vehicles (UAVs) as part of their job with Cooperative Engineering Services Inc., a company whose clients include the Air Force Research Laboratory and the Air Force Institute of Technology. The job has taken both McNees and Smith around the world several times to provide "eye in the sky" technology to today's troops, so he thought that attaching a camera to an RC aircraft was a simple thing to do.
"Anyone attending the RC Air Show is absolutely invited to try this out," said McNees.
The Radio-Controlled Model Aircraft Air Show takes place Sept. 4-6 on the back field of the National Museum of the U.S. Air Force. Sponsored by the Dayton Ohio Giant Scalers, the air show is scheduled each day from 8:30 a.m. to 5 p.m. The aircraft will perform a half-time show from 11 a.m. to 1 p.m. daily.
The event is open to the public, and admission and parking are free. Food and merchandise will be available for purchase. Those interested in attending the air show should enter the museum gate off Springfield Street and follow the signs to the event area behind the museum. Visitors are encouraged to bring lawn chairs and blankets.
For more information: 937-255-7207, NationalMuseum.af.mil or DogsAirShow.com.