Whenever a pilot remarks to Dick Collins about his being a high-time pilot, Collins responds, "It's only the next hour that counts."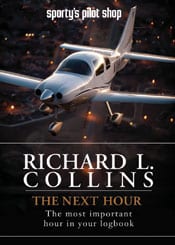 That answer was the impetus behind Collins' latest book, an all-new collection of Collins' wisdom and personal insights learned from his lifetime of flying general aviation airplanes. "The Next Hour" is written to help pilots understand and manage the risks inherent in flying, Collins says.
"Pilots don't crash airplanes because they want to," says Collins, but even experienced pilots do. The Next Hour is full of real-life tips to ensure your next hour is a safe one, such as the three-word emergency checklist every pilot should know. He also explores why some airplane types have poor accident records, and why a pilot's thought processes matter more than experience.
The Next Hour is available for $24.95 exclusively from Sporty's.
For more information: Sportys.com or 800-SPORTYS.