By KENNY BROWN, For General Aviation News
A chance meeting of four Tri-Pacer owners one Sunday afternoon in the fall of 1978 at a Southeastern Pennsylvania grass strip inspired what was to become the Short Wing Piper Club (SWPC).
The four, who had never met until this point, flew into the Van Sant Airport. Noticing each other's planes, they naturally came together and started talking. They soon began to discuss maintenance practices and parts issues each were having with their own aircraft.
The four new-found friends decided to start a type club where Tri-Pacer owners could pool their knowledge about problems and solutions relating to the operation and maintenance of these aircraft that were no longer being built. In September 1979 a group of 14 like-minded flying enthusiasts met at Sky Manor Airport in Pittstown, N.J., and formed the Tri-Pacers Owners Club.
In January 1980, the first international newsletter — with just eight pages — went out to 92 paid members, including a few in Canada, England, Ireland, and Mexico.
Later that year, the group found out about the Kansas City Tri-Pacer Association, a group that also started independently in 1978. The two groups merged in 1981.
A few years later, the club held its first "true" annual meeting in Minden, Neb., drawing 71 Short Wing Pipers (and a few Cessnas) and 222 people.
In 1984, the club grew even more, with a name change to the Short Wing Piper Club. This brought together a family of post- World War II tube and fabric aircraft, including the Piper PA-15/17 Vagabond, the PA-16 Clipper, the PA-20 Pacer, the PA-22 Tri-Pacer (a four place tri-geared airplane), and the PA-22-108 Colt (an economy two-place version of the Tri-Pacer).
The club meets each year, with regional chapters hosting the annual conventions. Over the years, conventions have been held from Lakeland, Florida, to Anchorage, Alaska, and lots of places in between.
This year's annual gathering of the clan was hosted last month by the Tennessee chapter in Knoxville, Tenn., at Knoxville Downtown Island Airport (DKX). The 30th anniversary celebration attracted 60 short-wing Pipers and 194 people.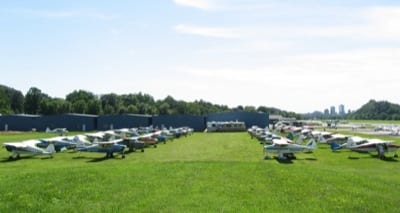 Activities for the week included seminars, a banquet where the grand champion was named and tours of location attractions, including the Tennessee Museum of Aviation and Tennessee Aviation Hall of Fame.
Middletown, Ohio, has been chosen as the site for the 2010 convention, while Sturgis, S.D., will play host the following year.
For more information: ShortWing.org.