Micro Aerodynamics has enlarged its micro vortex generator kit for the J-3, J-4, J-5 and PA-11 to include the horizontal stabilizer.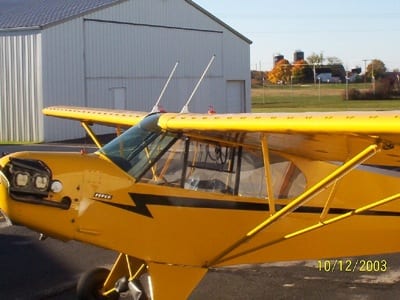 The complete kit with FAA STC approval, which sells for $695 plus shipping and handling, reduces the J-3 stall speed to 23 mph, according to company officials. The addition of the 24 vortex generators to the underside of the horizontal stabilizer dramatically improves elevator control in slow flight, officials add. To complete the kit, 80 VGs are mounted just aft of the leading edge of the wing using pre-cut templates and Loctite Depend for adhesion.
The vortex generators improve crosswind control, enhance aileron response and improve the slow speed flight characteristics of the J-series and PA-11, according to company officials.
The 1-inch vortex generators are made of 6063-T6 aluminum and keep the boundary layer of air attached at higher angles of attack and slower speeds. Each VG is curved to fit the contour of the wing, while those going on the horizontal stabilizer are flat. The entire kit can be attached in one day.
For more information: MicroAero.com or 800-677-2370.