Sporty's B-15 Leather Jacket is a three-season jacket that is flexible enough to accommodate a wide range of temperatures. The same Thinsulate liner and wool collar that will keep the wearer toasty on the coldest days can be removed when the temperature rises.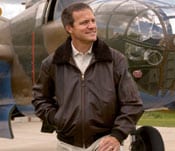 This jacket was originally developed for the U.S. Army Air Force bomber pilots in 1944, and its classic styling has been updated with new features while keeping the jacket's authenticity.
An organizer pocket on the left arm is great for small items like pens, while two inside chest pockets can hold a wallet and other papers. In addition, the B-15 Leather Jacket has two snap-close handwarmer pockets.
The B-15 Leather Jacket is available in sizes small through extra-extra large with "long" sizes available in large, extra large, and extra-extra large.
Price: $299 (with $20 additional for extra-extra large).
For more information: Sportys.com or 800-SPORTYS.