Britain's Paul Bonhomme will try to clinch his first-ever title in the 2009 Red Bull Air Race season finale in Barcelona, Spain, Oct. 3-4, after seeing the crown slip from his grasp at the very end of both the 2007 and 2008 seasons.
But Bonhomme will be feeling intense pressure from defending champion Hannes Arch of Austria, who is just four points behind going into the battle over Spain's Mediterranean shoreline on the Front Maritim. In a race in Porto earlier this month Bonhomme topped Arch before a season-record race day crowd of 720,000. Spain's Alejandro Maclean, who took 7th place in Porto, will be hoping for an even better result and even bigger crowd when the Red Bull Air Race rolls into to his home country for the first time since 2006.
Barcelona is expected to be one of the most challenging races so far this year, according to race officials. With the track located on an open coastline, nature will play a role in the outcome. Sudden shifts in wind direction and ocean swells — which could cause the air gates anchored to floating barges to rise and fall slightly — will require the pilots to be extra vigilant in order to avoid costly time penalties.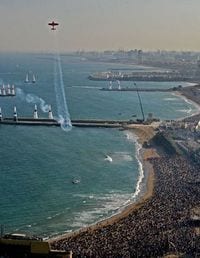 Bonhomme, who leads the championship standings with 55 points, has had two victories and three second place finishes this year.
"I've been in this situation before and I can tell you that a four-point lead is not a lot — especially when there's 13 points available in Barcelona," said Bonhomme. "It's not a big gap so we're still going to have to concentrate hard in Barcelona. It's a very different course."
The track in Barcelona will be full of non-stop twists and turns that put a premium on pilot skill in contrast to the sheer power that was required for the straight out-and-back course through the Douro River valley in Porto.
Spectators will be able to view this year's race from the beaches along the Front Maritim when qualifying takes off Oct. 3, followed by Race Day on Oct. 4.
For more information: RedBullAirRace.com