Pilots preparing for their next flight review don't have to go it alone. Sporty's Flight Review video covers topics every pilot should be prepared for in a flight review, such as regulations, weather reports, airspace, aeromedical factors, aeronautical charts, and airport signs and markings.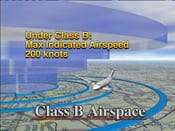 Sporty's Flight Review has now been updated with all-new weather segments from Sporty's meteorologists Steve Horstmeyer and Rich Apuzzo. The weather material covers METARs, TAFs, PIREPs, Airmets, Sigmets, Winds Aloft forecast, how to use Flight Watch while en route and more. A new Internet weather segment has also been added to show pilots how to get a better briefing.
"We know how stressed a pilot can be with an upcoming flight review," says Sporty's Academy President Eric Radtke. "With our new and updated graphics in several sections of this program, plus all-new graphics for the Airports Signs, Marking and Lighting section, we think any pilot will get a leg up by using this program to prepare for a review."
Another useful feature is that a pilot can pick and choose which sections and in what order to study particular topics. "Want to review Class C airspace? Then just watch that section," adds Radtke.
Even if you don't have an upcoming flight review, Sporty's video is a good way to give yourself a refresher course if you've been away from flying for a while. CFIs will find this program useful to make sure their students receive information essential to a good flight review. This program is also FAA Wings approved and may be used to satisfy the FAA Pilot Proficiency Program requirement.
Flight Review is available for $29.95 and may be ordered at Sportys.com or by calling 800-SPORTYS. This program is also available as a download for your PC, Mac, iPod or iPhone.