Aircraft owners know the advantages of flying at higher altitudes when traveling to far-off destinations. They also know they will need supplemental oxygen for themselves and their passengers.
But what about their pets?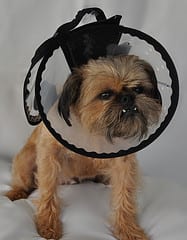 More and more pilots are taking their family pets on vacations and business trips. They often note that their dog will fall asleep during the trip. "Then when we arrive, the dog sometimes acts lethargic, walks sideways, and generally doesn't act right for about an hour, then they are just fine," they add.
All of these symptoms are short-term side effects of hypoxia.
Pilots are aware of what hypoxia can do to them, including headaches, dizziness, shortness of breath, blurred vision, and mental confusion. Most of these effects are short term and a person or pet can recover. But what about the long-term effects of hypoxia?
This was a major concern of Kent and Lori Carter, owners of Precision Grinding and 4 Paws Aviation in Warsaw, Indiana. The couple, who own a Cessna Turbo Centurion, fly with their two male Brussels Griffon, Cody and Moe, all the time for business and pleasure at altitudes where oxygen is required.
After reading an article that said pilots should not fly over 5,000 feet with short nose dogs, the couple came up with the idea for an oxygen delivery hood for their dogs.
After three years of research and development, the final product is available to the public.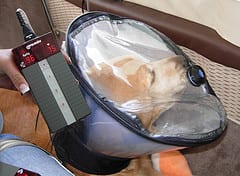 "4 Paws Aviation has done research with several volunteer animals," Lori Carter says. "Our test results have shown animals start decreasing blood oxygen levels starting at 8,000 feet and a significant decrease at 10,000 feet and above. We recommend oxygen use at 10,000 feet and above for your pets, lower if the owner thinks it is necessary. Since our hood unit uses constant flow oxygen, we recommend about 60% of the flow rate for humans for large dogs. This has produced a blood oxygen level in the middle to upper 90 percentile. With oxygen the animals are alert and responsive. Without oxygen they have been lethargic, not responsive, and have labored breathing. These are signs of hypoxia. According to veterinarians, some of the long-term effects of hypoxia are brain damage, blindness, congestive heart failure, and even death."
The oxygen hoods come in five sizes, small to XX-Large. Custom colors and sizes are available too.
The hoods are available at 4PawsAviation.com or AeroMedix.com.