You probably wouldn't think of a Van's RV as a seaplane, unless you saw the one owned by Mike Rossum of Longwood, Fla.
Rossum, a retired Pan American World Airways pilot, describes his RV-7A as part flying aquarium, part history lesson.
"I wanted a fun airplane after I retired," he explains.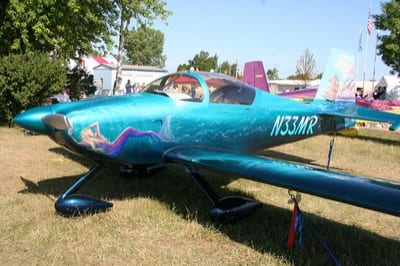 The airplane made its first flight in November 2007, but didn't get the sea-inspired paint job until October 2008.
"It took me a whole year to figure out that I didn't want a regular stripe-painted aircraft," he jokes.
According to Rossum, several factors went into choosing the design.
"I am a Pisces so I gravitate to water and I have children and grandchildren, so my wife Alice suggested that I do something that would be educational and that was connected to my history with Pan Am," he says. "On the rudder is a clipper ship. Juan Trippe, Pan Am's founder, was enamored with clipper ships, the fast-moving vessels from the 1880s, so all Pan Am aircraft were known as Clippers and Pan Am's radio call-sign was Clipper.
"On one side of the fuselage is the mermaid Maire, which in Irish Gaelic means 'star of the sea'," he continues. "She represents Pan Am's Atlantic service. On the other side is Nalani, which in Hawaiian means 'calm of the sea', and represents the Pacific service."
Next to the clipper ship is an albatross in flight, representing Pan Am's long-range flights to far-away places.
There are two airplanes included in the design. One is a Sikorsky-42 Amphibian, which was used to explore and establish routes for Pan Am. The other is a downed Japanese World War II Zero that has become part of a reef.
The Pan Am and blue globe logos and an island scene representing Pan Am's first flight, which was a mail run from Key West to Havana in October 1927, also are depicted.
Sea creatures galore abound in the design. On the left wing is an Orca named Oreo, on the right wing are a pair of porpoises, Ponda and her baby Pinky. Near the Zero is Tucker, the turtle. On the belly of the airplane you'll find Mano, the Manta Ray. A host of smaller tropical fish swim escort.
The airplane is named for one of the most somber moments in the airline's history.
"The name of the airplane is 'Maid of the Seas', which is the name of Pan Am Flight 103, which was destroyed by a bomb over Lockerbie, Scotland, in December of 1988 taking the lives of 259 people on board and 11 people on the ground," Rossum says.
According to Rossum, it took four months  to develop the design. The application was done by John Stahr of Eugene, Ore.
"It took him 130 hours to do it," Rossum says. "He loves doing animal designs and he did some wonderful Hawaiian-inspired work. When I saw this design, I knew this was the one I wanted!"
Stahr's work often wins awards at air shows and fly ins. The images have almost a three-dimensional look to them, and visitors are hard pressed to keep their hands in their pockets when they approach the plane. Often there is great debate over whether it is paint or decals.
"They are paint," Rossum laughs, adding that the airplane was Reserve Grand Champion kit-built at Sun 'n Fun this year.
For more information: StahrDesign.com.