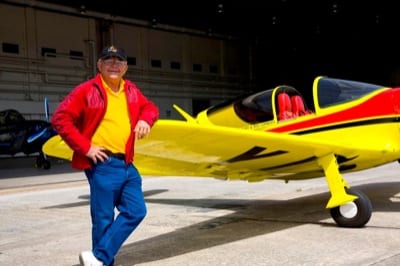 J.W. "Corkey" Fornof has had a flying career that most pilots only dream of.
He started as an air show pilot, flying with two aviation legends, his dad, Bill, and Bob Hoover. He then began flying for television shows and movies, soon becoming the go-to guy when Hollywood directors wanted breath-taking aerial stunts for their feature films.
His list of credits is extensive, including the James Bond classics, "Licence to Kill," "Moonraker," and "Octopussy," as well as other feature films, such as "Six Days, Seven Nights," "Mission Impossible II," "Face Off," and others.
Fornof, who has amassed more than 15,000 hours in more than 287 different types of aircraft, has a seemingly never-ending supply of stories about his adventures and the characters he's met in the aviation and movie worlds.
But there's one thing he can't tell you: How it all happened.
"I never planned any of this," he said. "It just happened."
After a moment's reflection, he conceded that he did know how he had achieved so much as a pilot: "I had fun," he said, "and the more fun I had, the more money I made."
Aviation has always been a part of Fornof's life. His dad was a Navy carrier pilot who nicknamed his son "Corkey" after the name on the plane he inherited from another Naval Aviator. He later learned that Corkey is a Japanese word that means "invincible one."
"The first time I went flying was when my mother was pregnant with me," Fornof said. "It was in a PT-19 and my dad did aerobatics."
Fornof grew up in Houma, La., surrounded by his father's planes, including a BearCat, a Mustang and a T-6. "I was always around aviation," he recalled. "How do you not fall in love with airplanes?"
While he was surrounded by airplanes, Fornof's father made him earn the right to fly. "My dad wanted me to finish college before I learned to fly," he said, noting he is still six hours short of a degree. "I had to rebuild the T-6 before he let me learn to fly in it. He wanted to be sure I really wanted to do it."
He soloed after 5.6 hours in the T-6 when he was about 20. "That airplane taught me an awful lot," he said. "I flew it coast to coast and border to border following Bob Hoover and Dad, cleaning up their airplanes."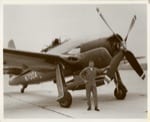 After logging just 67 hours, he flew his first air show with his father and Hoover, a charity invitational show at Spaceland Air Park just outside Houston for an audience of astronauts. "My first show was narrated by Frank Borman and Shorty Powell, the NASA announcer," he recalled. "It was quite a send off."
He continued flying air shows in Mustangs and F8F Bearcats with Hoover and his dad until 1971, when the elder Fornof was killed during a performance when a wing on his plane came off. He stayed in the air show business until the mid-1980s, when he made the decision to concentrate on movies.
He had started working on television shows and movies in 1967, doing air shows on the weekends and his movie work during the week. But as the movie work took off, he found himself traveling the world to different locations and it was just too much.
"I had been flying air shows for 25 years, so I decided to concentrate on the movies," he said. "It wasn't for the money, but for the creativity."
By that time, Fornof wasn't just flying as a stunt pilot in the movies. He was an integral part of the production. "I start with the script and the writers, hire the crews and direct the scenes," he said.
While movie making is fun, safety is paramount, Fornof said.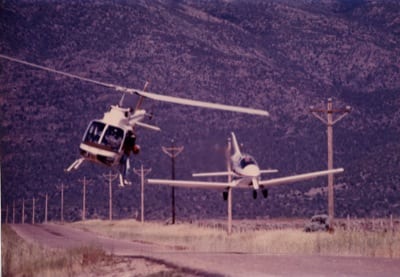 "A movie company doesn't hire me because I put my life on the line," he said. "They hire me because they know I'm safe and will eliminate all the risks. They hire me because I'll say 'no, it can't be done.' But 99% of the time, I can show them how they can get what they want."
After more than three decades in the movie business, Fornof finds himself in an enviable position. He still "breaks down" 12 to 14 scripts a year and "if I see something I like, I'll do it," he said, noting a few recent productions that have caught his eye include a movie about the Flying Tigers "that's like an Indiana Jones movie," a film version of Jimmy Buffett's book, "Where is Joe Merchant?" and a movie about Beryl Markham, which Fornof said will be "one of the greatest aviation stories ever seen."
"It is an Oscar-type of movie because it's a story of love and revenge," he said.
The veteran pilot notes that a movie can have the best pilots and aerial action, but all that is just set dressing for the story. "A good movie is story driven," he said.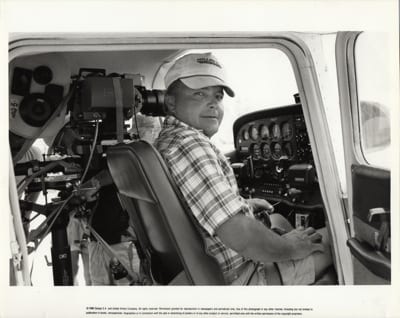 About five years ago, Fornof began to slow down to spend more time with his family, including his three daughters.
And a few years ago, he got a call from an old friend, Curt LoPresti, who asked him to fly the company's new airplane, the Fury, which was designed by Roy LoPresti (see separate story).
"Curt checked me out in the plane, then let me loose and told me to play with it," he said. "I started doing my old Mustang routine and I had so much fun I was laughing out loud."
After landing, he and LoPresti sat down to hammer out a deal for Fornof to get involved in the Fury as a test pilot and a demo pilot. "When Curt offered me a price, I said, 'OK, you have to give me two weeks to raise it,'" Fornof joked.
But as with most things in Fornof's life, getting involved in the Fury wasn't about the money.
"Roy really knew what he was doing," he said. "This is the finest combination of fun and cross-country airplane I've ever seen. It flies like Mustang but without all the bad traits."
Fornof noted that Fury pilots will be able to "play fighter pilot and have a blast," then put their wives or girlfriends — and all their luggage — in their planes for a cross-country trip.
"It's like a Ferrari with wings," he said.
For more information: CorkeyFornof.com, LoPrestiFury.com.
FORNOF'S TOP FIVE
He's flown more than 287 models, but what are Fornof's favorite planes? Without hesitation, he lists them: The Grumman Bearcat, the Mustang, the Fury, the Pitts and the Bede BD-5 Jet.
ADVICE FROM THE MASTER
What is the one lesson an accomplished pilot like Fornof has for other pilots? "Don't mess with Mother Nature," he said. "Just because you have an instrument rating doesn't mean you can fly in all weather. I've known more pilots who have died fighting weather than anything else."