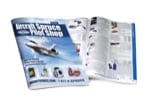 Aircraft Spruce & Specialty has just published its new 2010 Pilot Shop catalog, which will be available at the AOPA Aviation Summit in Tampa, Fla., next week.
The 88-page, all-color catalog lists a wide range of the most popular items used by pilots in all kinds of flying activity. The catalogs are issued free to anyone with an interest in aviation.
Featured products in this issue include new items from Garmin, an Aircraft Spruce ELT, custom wheelchocks, oxygen supplies, All Spray Aircraft Window Cleaning & Detailing Kit, and specialized cleaning lines such as Meguiar's. With everything from aviation apparel to handheld radios, from charts to computer programs, the Pilot Shop catalog is ideal for people flying J-3s to Citations.
Aircraft Spruce's complete product line is available at AircraftSpruce.com.