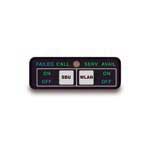 Mid-Continent Instruments introduces the MD41-1948, an Annunciation Control Unit (ACU) specifically designed for the lightest, most compact aeronautical broadband solution on the market — the Aero-SB Lite from Thrane & Thrane.
The MD41-1948 provides annunciation for the Aero-SB Lite with internal Wi-Fi. It displays the connectivity status of the SwiftBroadband Unit (SBU) and Wireless Local Area Network (WLAN). The MD41-1948 also offers installation flexibility with either vertical or horizontal configurations.
The MD41-1948 allows for SB-Lite and/or Wi-Fi to be powered on or off from the cockpit or cabin console, eliminating the need to cycle breakers. The ACU features automatic photocell dimming to enhance readability and has internally lighted SBU and WLAN push-buttons that provide firm tactile feedback to the pilot.
The MD41-1948 is available for purchase through any FAA-approved avionics dealer.
For more information: MidContinentInstruments.com or Thrane.com.