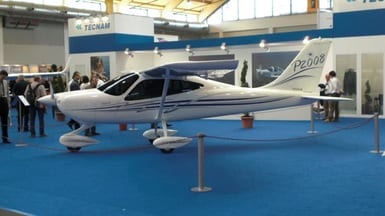 LSA manufacturer Tecnam has delivered the first Tecnam P2008 to the U.S.
Launched at the Friedrichshafen's European Air Show in April 2009, the new aircraft, which combines a carbon fiber fuselage with a metal wing and stabilator, was delivered to Heart of Virginia Aviation Inc. at Hanover County Airport (OFP) in Richmond, Va. The LSA will be on display at the U.S. Sport Aviation Expo later this month.
Tecnam has been building all-metal aircraft since 1948, but officials note the decision to use both carbon fiber and metal on the P2008 "allows for the optimization of aerodynamic qualities and reliability. Carbon fiber provides smooth surfaces, elegance, style, comfort and aerodynamic qualities for the fuselage while metal is used for the wing and stabilator for maximum strength and reliability."
The wing is based on the NACA63A airfoil, and, through partial tapering, is brought close to the optimal lift distribution (elliptical), officials said. The single-slot flaps extend along much of the wing span. The Frise type aileron, along with the taper design, provides a high rate of roll. The all movable type (stabilator) horizontal tail, traditional on all Tecnam aircraft, allows "excellent controllability and exemplary 'hands off' longitudinal stability," company officials said.
Tecnam traces its roots back to the activities of the brothers Luigi and Giovanni Pascale, who in 1948 created general aviation airplanes under the name Partenavia. Establish in March 1986, Costruzioni Aeronautiche Tecnam now operates in three plants with more than 78,804 square feet of area. The Casoria facility is located adjacent to the Napoli Capodichino Airport. The Capua facility is located adjacent to the Oreste Salmone Airport, while the Spain facility is located in Villanueva del Gallego, Zaragoza.
For more information: Tecnam.net or FlyHOVA.com