The Aero Club of Atlanta recently honored Dr. Debi Huffman with the First Annual 2009 Epps Award for Outstanding Aviation Achievement in Georgia.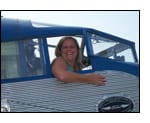 Huffman has inspired students who later become astronauts, including two students from Henderson High School, the only known school in the world to graduate two NASA astronauts. Huffman initiated aerospace programs at Fernbank Science Center in 1976 and has taught there ever since. She is the founder of the SEMAA (NASA's Science, Engineering, Mathematics and Aerospace Academy) LINKS Engineering team and sponsored the Wild Blue Wonders Team America Rocketry Challenge. She is a founding advisor of the Transportation Education Foundation of Georgia (TEFGA).
The next upcoming Aero Club of Atlanta luncheon will be held at the Capitol City Club March 2. The guest speaker will be Karen Gephart, president of the Aircraft Owners and Pilots Association Foundation.
In other club news, Atlanta Aero Cub donated $500 in fuel for Haiti Relief flights led by ACA Member David Lee, president and founder of Airshares Elite.
For more information: AtlantaAeroClub.org