Cirrus has unveiled a new option for SR20 and SR22 aircraft used in a training environment: a means to simulate the use of retractable landing gear.
Vice President of International Sales Ian Bentley noted the importance of this new Cirrus innovation. "Across the world m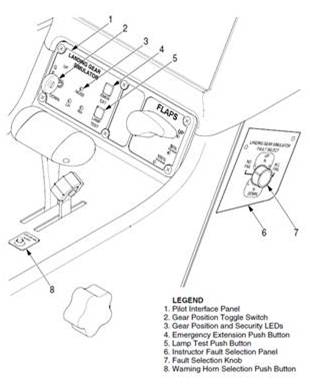 ore and more flight schools are accelerating the pilot learning process using Multi-Pilot Licensing (MPL) and similar programs. These programs side-step the traditional licensing systems requiring, for example, the use of retractable landing gear aircraft for specific phases of training, as is the case for the U.S. Commercial Pilot rating. The Cirrus Landing Gear Simulator can add this experience to a training curriculum without the added expense of dedicated aircraft for this specific training."
Instructor pilots can simulate landing gear system failures such as "right gear unsafe" and learn appropriate procedures to troubleshoot or solve the problem while actually flying an aircraft. The Cirrus SR20/SR22 fixed landing gear allows these learning scenarios without risk to the aircraft, company officials said.
The system consists of the pilot interface panel, the instructor fault select panel, a warning horn, a warning horn push button and an independent circuit breaker for the system. The Cirrus Landing Gear Simulator installation is available for installation on new Cirrus aircraft or can be added to an aircraft at a later date.
For more information: CirrusAircraft.com