Powder Puff Pilot has released its third aviation book for children, "Claire Bear Explains…What Pilots Fly." Like the first two picture books in the series, it stars Claire Bear, a pink-clad aerobatic performer and mentor for aspiring young pilots.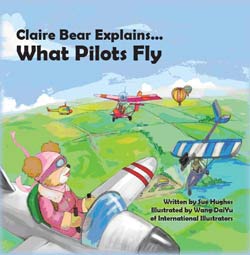 The series is the brainchild of Sue Hughes, a pilot since 1996 and a flight instructor and aviation technical writer, with the goal of introducing the thrills and excitement of aviation to a new generation. "For the first time since the Wright brothers, the number of new pilots has decreased in the past few years, for a variety of reasons," reported Hughes. "If we can engage kids in flying at an early age, perhaps we can reverse that trend, and spark an interest in aviation that will last a lifetime." Hughes targets girls with her books, which feature a character that girls can relate to. "Once an airshow visitor asked me, 'Do you have any books with a boy in them?' I wanted to tell him to pick up any other aviation book on the shelf — they all have boys in them! Besides, would it be so bad for a boy to read about a girl pilot?"
In Hughes' new book, a young girl asks Claire Bear what she flies. The accomplished aviatrix takes the opportunity to teach the youngster the wide range of aircraft and missions that pilots fly — from gliders skimming along air currents, to aerial refuelers, to medevac aircraft transporting patients — ending with the query, "What will you fly?"
The first book in the series, "Claire Bear Presents…The Pilot Alphabet," published in 2008, teaches Alfa, Bravo, Charlie, and the rest of the words that pilots and air traffic controllers use to communicate clearly over the radio. Now in its third printing, it was named by USA Book News as a National 2009 Best Book finalist in the Children's Picture Book category. In 2009, Hughes published her second picture book, "Claire Bear's First Solo."
In addition to publishing, Powder Puff Pilot designs and sells pilot gear and accessories for women, such as a pink pilot logbook, pink aviation headsets, and pink seat cushions. It also carries more than 20 biographies, flight adventures, and fiction titles.
For more information: PowderPuffPilot.com.