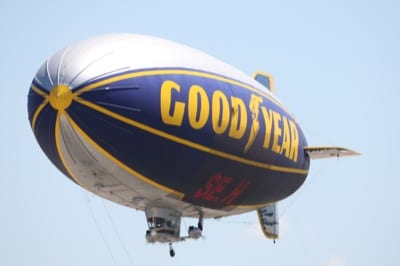 The iconic Goodyear blimp will return to the skies over Oshkosh this summer as part of EAA AirVenture 2010, which will be held July 26-Aug. 1 at Wittman Regional Airport (OSH).
The "Spirit of Goodyear," which will arrive on Tuesday, July 27, and depart on Monday, Aug. 2, will be flying regularly during the festivities. In addition, it will be moored near the EAA AirVenture Museum's Pioneer Airport for up-close viewing at other times, giving visitors a unique view of an aircraft that is commonly seen only from afar.
"We are thrilled to once again have the blimp support Goodyear Aviation at AirVenture," said Eric Varndell, Global Marketing Manager for Goodyear Aviation tires. "The rides are a thrill for our customers and through our 'I Wanna Blimp Ride!' Sweepstakes this year, we get to give the ride of a lifetime to a few lucky AirVenture attendees."
Based at Goodyear's Wingfoot Lake Airship facility in Suffield, Ohio, the "Spirit of Goodyear" often flies the sky over the company's headquarters in nearby Akron. The airship is 192 feet long and nearly 60 feet tall, and typically cruises at 30 mph between 1,000 and 3,000 feet. As with all three of the U.S.-based Goodyear blimps, the "Spirit of Goodyear" is equipped with a lighted sign that incorporates 3,780 LED boards holding 82,656 LEDs to produce a pallet of 32,767 possible colors.
Christened and placed into service in March 2000, this will be the third time in four years the "Spirit of Goodyear" has appeared at AirVenture, following up visits in 2007 and 2008. Previously, a Goodyear airship had not been at AirVenture since visits in 1986 and 1988.
"It's great to have one of the most recognizable flying machines in the world back at EAA AirVenture," said Tom Poberezny, EAA chairman/president and AirVenture chairman. "Goodyear has a long involvement in aviation, so it's only fitting this unique blimp is showcased at 'The World's Greatest Aviation Celebration.' Attendees young and old won't want to miss out on seeing this spectacle up close."
For more information: Airventure.org, Goodyearblimp.com and GoodyearAviation.com.