ASA has released the Sixth Edition of "Instrument Flying," a textbook that covers all of the aeronautical knowledge and practical skills needed to earn the instrument rating and operate in the IFR system.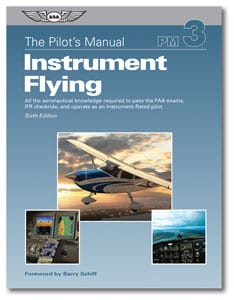 The textbook features hundreds of full-color illustrations and photographs, as well as helpful notes and mnemonic devices in the outside margins for quick definition of terms, maximum comprehension, and easier retention, according to ASA officials. Both conventional "steam gauge" and glass cockpit instruments are covered.
Now in its Fourth Edition, the Instrument Rating Syllabus is also available. Based on The Pilot's Manual Series, the syllabus can be used in coordination with the textbook or adapted to any study program, say ASA officials, who note it meets all Part 141 and 61 requirements.
Price of the textbook: $59.95; the syllabus is $12.95. For more information: ASA2Fly.com