The September/October 2010 issue of FAA Safety Briefing focuses on proficiency and its importance for pilots and aviation maintenance technicians.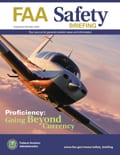 The issue provide tips on developing personal improvement plans, address getting back to flying after an absence, give suggestions on how AMTs can keep their edge, talk about the complicated subject of receiving compensation for your flying, and more.
FAA Safety Briefing is the safety policy voice for the non-commercial general aviation community. The magazine's objective is to improve safety by: Making the community aware of FAA resources; helping readers understand safety and regulatory issues; and encouraging continued training.
For more information: FAA.gov