Redbird Flight Simulations, Inc. is preparing for the upcoming delivery of its 100th Advanced Aviation Training Device (AATD). In less than two years after receiving FAA approval, Redbird has sold and delivered 100 simulators to flight schools and training operations around the world.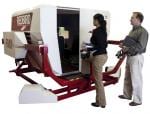 The 100th device will be delivered to Full Motion Flight Training LLC. The company already has two Redbird FMXs in its facilities in Nevada and California, according to Lon Rosado, founder of Full Motion Training.
"We've been in the software business for over thirty years," Rosado noted. "We know leading edge technology and good customer service when we see it." Lon and his wife, Laura, are both instrument-rated pilots with a passion for aviation. "We're strong believers in the importance of recurrent training, but it has to be enjoyable. Installing the Redbird FMX at great locations like San Diego, Minden/Tahoe, and Lake Powell will let us and other pilots enjoy training even more."
"Keeping our instrument ratings current is a constant challenge," Rosado admitted. "The Redbird FMX is the most affordable way to improve skills, fly multiple aircraft types, and experience all kinds of wind, weather, daylight, and emergency situations – much more safely than we can in actual IFR in our own plane. Redbird is FAA-approved for instrument currency and a whole lot more."
For more information: RedbirdFlightSimulations.com or FullMotionTraining.com.