Terrafugia, Inc., developer of the Transition Roadable Aircraft, or "Flying Car," is setting up for low-volume production in a 19,000-square-foot facility in Woburn, Mass. After considering proposals from locations throughout the world, Terrafugia has moved forward with plans that could allow low volume production to begin as early as late 2011, company officials note. Longer term, high volume production plans have not yet been finalized and will be influenced by experience gained in low volume manufacturing, officials add.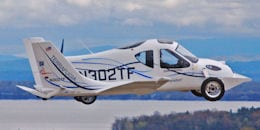 Two prototypes are currently under construction in Terrafugia's new facility. One will undergo extensive drive testing while the other will be used to complete Light Sport Aircraft certification flight testing. Experience from the construction of these prototypes will also be used to finalize the initial price point of the vehicle, which is expected to be between $200,000 and $250,000.
Terrafugia expects to create an additional 50 skilled manufacturing jobs at its new facility by 2013 to support early production demand. Reservations have already been placed for the aircraft that will be built in the first two to three years of production and are still being accepted with a $10,000 refundable deposit.
Terrafugia (terra-FOO-gee-ah), was founded by five pilots who are graduates of MIT and supported by a network of advisors and private investors.
For more information: Terrafugia.com