The Spectroline MLK- 35 MAXIMA kit features the MAXIMA ultraviolet lamp to detect fluid leaks. State-of-the-art Micro Discharge Light (MDL) technology enables the lamp's 35-watt bulb to deliver up to 10 times the UV-A output of conventional High Intensity Discharge (HID) lamps, according to company officials.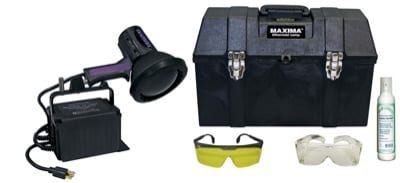 The MAXIMA can be used in direct sunlight, which enables  outdoor inspections on tarmacs and in open hangars.
The lamp kit includes UV-absorbing glasses, fluorescence-enhancing glasses and an 8 oz. spray bottle of GLO-AWAY dye cleaner, packed in a carrying case. Also available is the MLK-35M lamp kit, which includes a 12-volt rechargeable battery pack, as well as AC and 12V DC cord sets. The AC charger is available in 120V, 230V 240V or 100V versions.
For more information: 800-274-8888 or Spectroline.com.