Embry-Riddle Aeronautical University will host the return of its free Wings and Waves Air Show over the Atlantic Ocean in Daytona Beach, Fla., Oct. 9-10.
The show, which takes place off the Daytona Beach shoreline, centered in front of the Hilton Daytona Beach Oceanfront Resort, begins at 11 a.m. daily and admission is free and open to the public.
The air show's feature attraction will be aerobatic performances by the Snowbirds. The Snowbirds Demonstration Team (431 Squadron) is a Canadian icon, composed of serving members of the Canadian Forces. The Snowbirds are celebrating their 40th anniversary this season.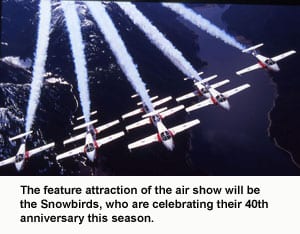 In addition to Embry-Riddle's title sponsorship, other sponsors of the Wings and Waves Air Show are Central Florida News 13, Magic 107.7 FM, Volusia County, Daytona Beach International Airport, Hilton Daytona Beach Oceanfront Resort, Chevron, Geico, Fagen Inc., Lucas Oil, LoPresti, ASB.TV, Oracle, Orlando Sentinel, Daytona Beach Area Convention and Visitors Bureau, and the City of Daytona Beach.
For more information: WingsAndWaves.com or 386-492-4076.