A crisp, white shirt with epaulets says "pro pilot," but what about the pants? Sporty's now offers Professional Pilot Pants like those worn by airline pilots. These premium quality pants are perfect for CFIs, corporate pilots and airline pilots alike, company officials say.
"Don't confuse these blended wool pants with cheap department store pants," says Sporty's Vice President John Zimmerman. "Ours are comfortable enough for a full day in the cockpit, but resist wrinkles and stains."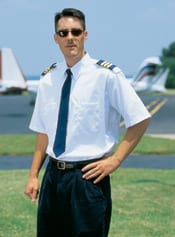 The Professional Pilot Pants have a pleated front and are made from 55% poly/45% wool. The pants are wrinkle free and stain repellant and have many features, such as welt button-through back pockets and bartacking at stress points. These pants also feature a curtain waist found in official uniform pants. The Professional Pilot Pants have a hook and bar closure at the waist and are available in black.
Sporty's also offers a selection of professional pilot shirts, hats, epaulets, boots and ties, adds Zimmerman.
The Professional Pilot Pants are available for $49.95 in waist sizes 30, 32, 34, 36, 38, 40 and lengths 30, 32, 34 (except 30W/34L). A $5 discount is provided for an order of three or more.
For more information: Sportys.com or 800-SPORTYS