Miller Electric Mfg. Co. introduces the Digital Camo design to its line of Digital Elite Series helmets.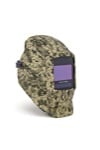 This new military inspired camouflage design offers a unique graphic that appeals to a wide range of welders, from supporters of the armed forces to outdoor enthusiasts, according to company officials.
The Digital Camo helmet is available through welding supply distributors in the U.S. and Canada with a list price of $389 US. Prices may vary by distributor.
For more information: MillerWelds.com