Hartzell Propeller Inc. has developed a new 3-bladed Top Prop performance conversion for Cessna 180 and 185, as well as early 210 and 205 aircraft.
This is the first time Hartzell has offered a propeller for Cessna 185 owners with a TCM IO-470 engine, and the first 3-bladed prop to be offered for use on early Cessna 210 and 205 models, according to company officials. This propeller is also compatible with a range of popular power plant modifications common to these aircraft.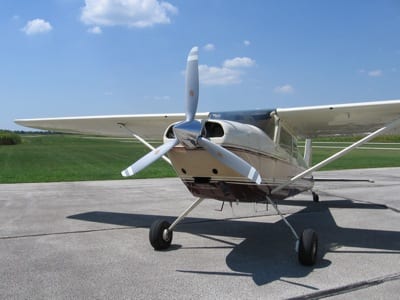 Hartzell's senior vice president of marketing and customer services, Mike Disbrow said, "These new props were designed with ruggedness and durability in mind. The aluminum blades combined with Hartzell's revolutionary scimitar blade design make this model an excellent choice for users operating in any region – over land, sea or snow.
"Many of these Cessnas are used in harsh conditions where aircraft durability is essential. In the back country or on water, where a stone nick or water erosion can mean a no-fly decision, pilots need to be able to rely on their aircraft and its parts. A metal propeller is the best option under such abusive conditions."
Compared to the stock propellers currently found on these Cessna models, the new Hartzell 82-inch diameter conversion features "blended airfoil" technology and scimitar blades, which result in improved takeoff and climb performance, ground clearance and aesthetics, company officials said. It has a longer TBO (2,400 hours 6 years), while its swept tip design results in a noise reduction.
Hartzell's new STC kit is available for Cessna 180 through 180K using O-470-A, -K, -J, -L, -R, -S, and –U engines; Cessna 185 through 185E using IO-470-F engines; Cessna 210 through 210C, 210-5 (205) and 210-5A (205A) using IO-470-E and –S engines. The kit includes a 3-blade, 82-inch aluminum propeller, an STC document set and a polished aluminum spinner.
Through Hartzell's Top Prop dealers, the basic kit is offered at an introductory retail price of $9,400, with a three-year/1,000-hour warranty and six-year/2,400-hour TBO.
For more information: HartzellProp.com